2018 has been a fantastic year for the inclusion and diversity conversation at CFA UK. Much of the success of our D&I conversation has been down to the hard work and time given by our volunteers.
Between London and Edinburgh, our I&D volunteers have delivered 5 events around diversity and inclusion.
What was the GDN Committee has committed to broaden their conversations on diversity and have changed their name accordingly to I&D Committee
Our Scottish Network has successfully recruited 3 new volunteers to support them in achieving their objectives.
Our I&D Committee lead, Juliet Bullick and her team of Committee Volunteers have great plans for 2019 in growing the diversity conversation further than just gender and the Committee will be recruiting for its first working group around social inclusion.
Pictured above left to right:Phoebe Robertson, Tanya Tracy, Katerina Kosmospoulou, Juliet Bullick, xx, Emma Penny, Kathleen Hughes.
Scottish Inclusion and Diversity Network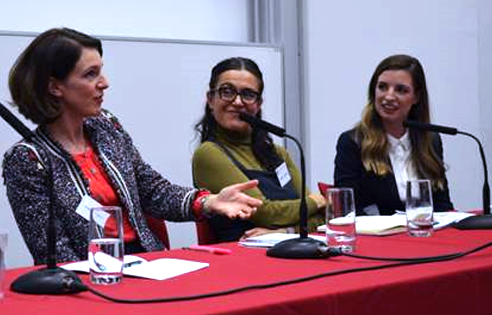 Our Scottish Inclusion and Diversity Network delivered a fantastic event in partnership with University of Edinburgh. There were no spare seats in the auditorium as students and industry recruits were keen to explore the topic of "Working in the fund management industry - an insider's guide". The keynote speaker, Sarah Whitley, recently retired Partner at Baillie Gifford, described her journey from being a young graduate to becoming one of the UK's most successful equity investors. Sarah was joined by a panel of industry practitioners and academics who shared their insights into the world of fund management.
Pictured left to right: Catie Wearmouth, Angelica Gonzalez and Stephanie Kelly
Carolina Jose Martinez, has been appointed as Vice Chair to the Scottish I&D Network. Karolina Noculak, Chair of the Network adds "Carolina has been instrumental in leading our diversity and inclusion initiatives over the course of this year. Carolina is passionate about the subject, she is a go-getter and absolute pleasure to deal with. We are indeed lucky to have her on board!"

Inclusion and Diversity Partnerships Programme
Our CFA UK Inclusion and Diversity Partnerships Programme successfully completed its first year, ending with a fantastic event showcasing the learning and changes each partner has made because of working together. The Partnerships Programme. founded by Allianz Global Investors, Fidelity International, PIMCO, Royal London Asset Management and Vanguard, have committed to continue working together in 2019 around the gender conversation and in line with the I&D Committee, begin the discussion around social inclusion.