The Conversation presents... Quantitative easing – is it time to check out?
Wednesday 20 September 2023 | 18:30 - 20:30 | Evening Event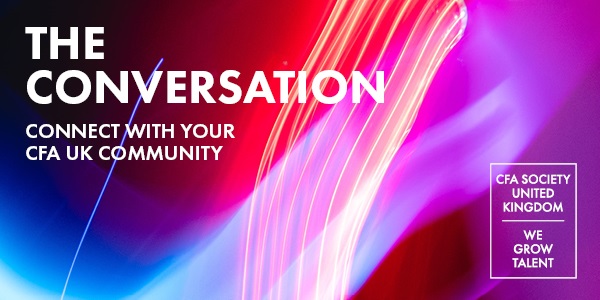 The Eagles generation defining single Hotel California includes the lyrics: 'You can check out at any time, but you can never leave'. But what has that got to do with quantitative easing (QE)?
In February, the FT namechecked the 70s hit in their article QE has become 'Hotel California' for central banks. Quantitative easing has topped the charts for a long time and, as a result, we have seen soaring asset prices and central banks' balance sheets have ballooned to never-before seen levels. After a near 20-year hiatus inflation is back, and with a vengeance.
For many it's check out time for QE - but is there a way out?
The latest 'The Conversation' event will give you the floor to debate QE openly with investment professionals. You will get time to express opinions, share knowledge, and get to know people. We will use Chatham House Rules to make the event a safe space. Discussion will be hosted and facilitated by a couple of guests speakers who have a bird's eye view on this topic.
After the debate,there will be plenty of time catch up with people on whatever subject you'd like.
Who will be hosting?
John Walsh, Sovereign Credit Analyst with Moody's Investors Services

John Walsh is a Sovereign Credit Analyst with Moody's Investors Services. With over 10 years of experience in the financial industry across both the public and private sectors he brings a wealth of knowledge and perspective to the topic of quantitative easing. Currently based out of London, Walsh is responsible for researching and assessing the creditworthiness of a portfolio of sovereign governments and multilateral institutions with a focus on developing economies in Africa.
Prior to joining Moody's, he worked on the design and implementation of monetary policy as a senior trader on the money markets desk at the Bank of Canada and played a lead role in designing the Bank's risk appetite and risk governance framework. He also has extensive experience in sovereign debt issuance, foreign reserves management and public infrastructure policy gained in various roles at the Department of Finance Canada. His work has been published and quoted in leading financial media outlets including the Economist, the Financial Times and Bloomberg among others. Mr. Walsh holds a Masters in Arts (Economics) from Queen's University in Ontario, Canada, an undergraduate degree (Hons.) in economics and philosophy from St. Francis Xavier University in Nova Scotia, Canada and been a CFA Charterholder since in 2019.
Nick Bird
Nick brings a wealth of practical knowledge from his 25 years in financial services. A regular presenter on the industry circuit, he speaks on a range of investment areas in which he has held senior sales positions. His recent work in private markets, covering venture capital and infrastructure investing, has led him to present on complex tax matters, with a specialism in IHT.
Ben Ashby, Chief Investment Officer, Henderson Rowe
Ben Ashby is the Chief Investment Officer at Henderson Rowe, the U.K. based subsidiary of Rayliant Global Advisors (RGA)
Ben also serves as Head of Fixed Income for Rayliant Global Advisors. Rayliant is a US registered investment advisor that specialises in bringing together elements of data science, behaviourial science and local insights.
He also sits as a general partner with Good Governance Capital, which has a joint venture Henderson Rowe. Good Governance Capital acts as a corporate advisor to early stage, high technology 'third wave' companies.
Previously Ben worked as a Managing Director in JPMorgan's Chief Investment Office. He also sits on the boards of Cambridge University's Centre for Financial History and Kent County Rugby Football Union.
Introducing The Conversation
The Conversation is a new event series to bring us all together to discuss key investment topics. This is an evening of fresh perspectives, engaging conversations, and new connections. It's an opportunity for us to think on our feet and give spontaneous opinions in a judgement-free environment (Chatham House Rules goes without saying!).
Join us for an evening of lively debate, candid opinions, and networking that doesn't feel like networking.
Timings
Registration: 18:00, please arrive by 18:15
Event: 18:30 - 20:30
Click here to view our event terms and conditions.