Liam Nunn, CFA, awarded £5,000 for essay on value investing principles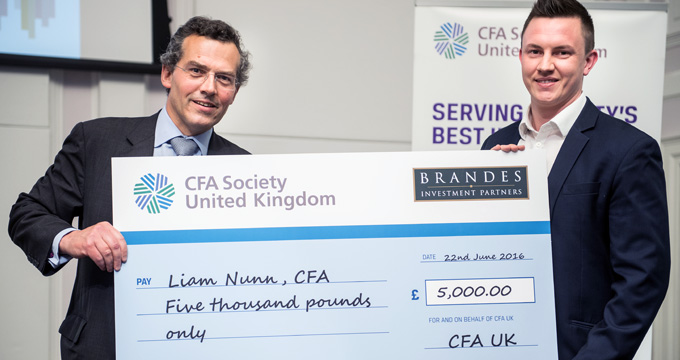 Liam Nunn receiving his cheque from CFA UK Chief Executive, Will Goodhart
The CFA Society of the UK (CFA UK) and Brandes Investment Partners announced at the Aberdeen Road Lectures event this year's winner of the investment essay competition honoring Benjamin Graham, the founding father of both value investing and the CFA program. Liam Nunn, CFA, equity analyst at Old Mutual Global Investors, was awarded the £5,000 prize for his essay on how Graham's principles of investing safely and successfully reflect the way he practices today.

The competition, which launched at the inaugural Aberdeen Road Lectures event last year, awards a prize provided by Brandes Investment Partners annually to one winner for a paper that draws on Graham's thinking and work as well as promotes financial analysis as a profession. It is open to all members of CFA UK under the age of 35.

"We were encouraged by the many submissions that demonstrated a keen understanding of and reflection on Ben Graham's value investing principles, and we are pleased to present this award," said Charles Brandes, CFA, founder and chairman of Brandes Investment Partners. "My work with Graham was integral to the founding of Brandes Investment Partners, and it is an honor to help impart his vision as a value investor to young members of the CFA community."

"This prize was launched to encourage and inspire our members who are just entering the profession to delve into the philosophy and practice of Ben Graham," said William Goodhart, chief executive of CFA UK. "We continue to learn from his work, and CFA UK is committed to maintaining the professional standard that he envisioned."

The winning essay will be published in the autumn issue of Professional Investor magazine and available on the Brandes Institute website.


About Brandes Investment Partners, L.P.
Brandes is a leading investment advisory firm, managing global equity and fixed-income assets for clients worldwide. Since the firm's inception in 1974, Brandes has consistently applied the value investing approach, pioneered by Benjamin Graham, to security selection and was among the first investment firms to invest globally using a value approach. The independently owned firm manages a variety of active investment strategies and applies its investment philosophy consistently in all market conditions. Headquartered in San Diego, Brandes and its related entities have offices in Milwaukee, Toronto, Dublin and Singapore.

About CFA UK
The CFA Society of the UK (CFA UK) represents the interests of more than 12,000 members of the investment profession. The society is a leading member society of CFA Institute (the global, nonprofit organization of investment professionals) and serves society's best interests through the education of investment professionals, by informing policy-makers and the public about the profession and through the promotion of high professional and ethical standards. The society was founded in 1955.