The CFA Society of the UK (CFA UK) is delighted to announce the winners of its annual Journalism Awards.
The Economist is the society's Publication of the Year for 2017. The award goes to the publication that has made the most significant overall contribution to the advancement of investor education over the past 12 months.
In addition, Tom Easton, American finance editor at the Economist wins Journalist of the Year 2017. His piece: The Barbarian Establishment was thought to be the individual article that best advanced investor education by virtue of its relevance, clarity and content.
Patrick Hosking, Financial Editor at The Times, is named the winner of CFA UK's Ethical and Professional Standards Award. The award recognises the journalist who has done most to advocate high standards of ethical and professional behaviour in the investment sector in the past year. He was particularly commended for coverage on the future of pension schemes and the role of the regulator.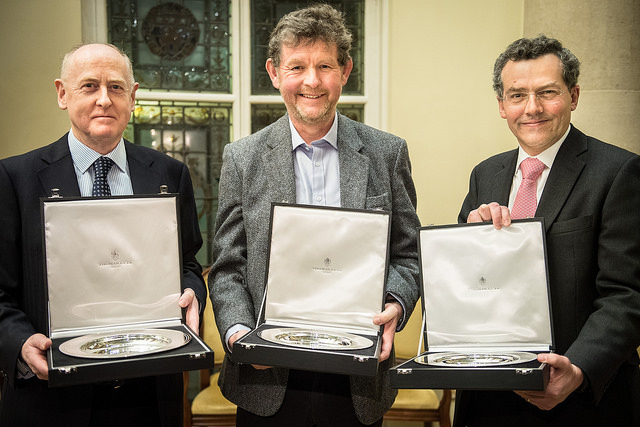 Pictured (left to right) Patrick Hoskings, The Times; Philip Coggan, The Economist and Will Goodhart, CEO, CFA UK
The Publication of the Year and the Journalist of the Year awards are determined by reviews of multiple, anonymised submissions from leading national and investment publications. The winner of the award for promotion of ethical and professional standards is selected from a shortlist developed for the Society's Marketing and Communications Committee.
Take a look at a selection of photos from the event.
Presentations were awarded on 11 January 2017 at the CFA UK Fellows Reception held at One Moorgate Place, London.