Investment professionals finding it less challenging to adhere to ethical codes and standards
Majority of CFA UK members actively considering codes and standards regularly
Conflicts of interest most difficult area for survey respondents
CFA UK has published its annual Ethics Survey revealing the latest attitudes to ethics and professionalism in the investment profession.

The survey is designed to assess progress and discover the key challenges experienced by investment professionals. It is the only tracker of views on ethics across the UK investment profession and, now in its fifth year, provides a view on how trends have developed over the last half decade.

The 2017 Ethics Survey reveals that the majority of CFA UK members consider CFA Institute's Code and Standards regularly. The code is the ethical benchmark for investment professionals around the globe, regardless of job title, cultural differences, or local laws. Fifty-two per cent of respondents this year said that they think about the Code and Standards often in the course of their work, whilst only 12% said that they only think about them when the need arises.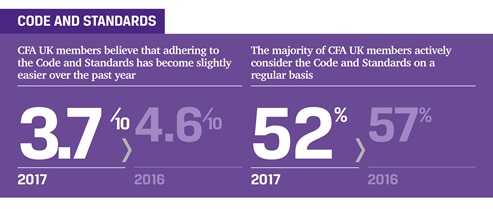 Those who consider the Code and Standards only when they deem them necessary has now been consistently low (between 10-13%) for three years, compared with 35% of respondents in 2013 and 33% of respondents in 2014, suggesting significant and sustained progress in the industry.

Investment professionals are also finding adherence to the Code and Standards less challenging than last year: 62% considered it relatively simple to adhere to them this year, compared to 50% in 2016. This trend coincides with the tougher legal framework put in place in the last decade and a significant rise in the spending and focus of the investment industry on regulatory and compliance work. The percentage of members who found it difficult to adhere to them equally dropped from 24% last year to 14% this year.

When asked which elements of the Code and Standards were hardest to adhere to, members pointed to the regulations regarding conflicts of interest (including the disclosure of conflicts, priority of transactions and referral fees), with 39% of those surveyed finding these challenging to them personally during the past year.

This represents an increase in concern about conflicts of interest compared to last year when investment professionals selected the areas of professionalism (including knowledge of the law, independence and objectivity, misrepresentation and misconduct) and investment analysis, recommendations and actions (including diligence and reasonable basis, communication with clients and prospective clients and record retention) as more challenging personally. The change is likely due in part to the fact that, under MiFID II, firms will be required to examine their processes in much greater detail to avoid and manage conflicts of interest.
This year's survey also points to a strong belief in the importance of firms' ethics and values more generally.
Investment professionals feel particularly strongly that ethics and professionalism should matter to clients when they are considering awarding a mandate. Evaluating the importance of this, respondents awarded an average score of 9/10. In practice, however, investment professionals feel that firm ethics matter less to clients than they should (giving an average score of 7/10), suggesting that clients should make this more of a priority when deciding whether to award business to firms.

Equally, the 2017 survey reveals that ethics and values are particularly important to investment professionals when considering positions with new firms. On average, when considering accepting a role at a new firm, members ranked the importance of the firm acting in an ethical manner with both them and clients at 9/10.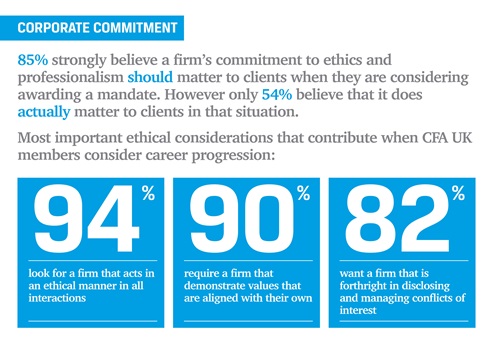 Says Will Goodhart, chief executive of CFA UK:
"Helping investment professionals to act ethically in their everyday practices is one of our key mandates at CFA UK. The investment profession can only act in clients' best interests when it acts ethically.

"We are pleased to see a growing awareness of CFA Institute's Code and Standards amongst investment professionals and that our members are beginning to find it easier to adhere to these. Our 2017 Ethics Survey demonstrates, however, that there are still concerns to be addressed. As professionals prepare for the activation of the MiFID II regime in January 2018, issues of ethical practices are again at the forefront of the industry's consciousness.. The UK investment sector wants more guidance on appropriate conduct regarding conflicts of interest and we look forward to working with investment firms to help them ensure that their employees meet and maintain high ethical and professional standards."

Says Annabel Gillard, CFA, chair of CFA UK's Ethics Committee:
"While this year's results carry some welcome news, there is still a long way to go. Our ambition is for investment professionals to be held in the same regard as other professionals such as doctors and lawyers. The survey results suggest that respondents believe we've made little progress towards that aim over the past year. Our profession needs to invest in its culture and to demonstrate this clearly to clients and society if we want to change the way that we are perceived."


***
Notes to editors:

For further information or to request an interview, please contact Ogilvy Public Relations:
CFASocietyUK@ogilvy.com

CFA UK's Ethical Leadership Programme begins this week. The programme promotes the need to have a high level of integrity, support continuous training and encourage leaders to lead by example, ultimately putting the client at the centre of their business.


About CFA UK
Part of the worldwide network of member societies of CFA Institute, CFA UK represents the interests of 11,600 investment professionals in the UK and is committed to promoting the highest ethical standards. On an annual basis, all members agree to abide by and adhere to CFA Institute's Code of Ethics and Standards of Professional Conduct, which are designed to encourage and maintain best practice.

As part of its work as a leader in ethical standard setting, CFA UK also hosts an annual Professionalism Conference. To find out more about this year's conference and other upcoming events.


About the Survey
The 2017 Ethics Survey ran in April 2017 and was completed by 531 CFA UK members.