Author: Maha Khan Phillips
The investment profession needs to develop better reporting standards for climate considerations, believes Ian Simm
In 1989, Ian Simm launched an expedition to cross the Sahara Desert…on a tandem bicycle…in the height of summer, and when temperatures were hitting 48C. "That was something I did in my early 20s, a somewhat crazy thing, but definitely an experience that left me with a great set of memories," he says, smiling.

The chief executive and founder of Impax Asset Management, the specialist asset manager focused on investing in the transition to a more sustainable global economy, has always been interested in understanding and exploring the environment. He ran the expedition society at Cambridge University, for example, where he studied physics and graduated from in 1988.

It was when he came across the Brundtland Report in 1987 that Simm became captivated by the idea of sustainability. "There was this idea that society needed to change to accommodate these trends and avoid irreversible environmental destruction on one hand, and resource depletion on the other," Simm explains.

He spent ten years "really navigating my way towards the interface between private capital, and environmental problems," before entering the investment profession. Simm worked as a consultant at Environmental Resources Management, and then as an engagement manager at McKinsey, before becoming a director of Impax Capital in 1996. In 1998, he established Impax Asset Management.

The firm's first client was The World Bank, which needed help designing and running a solar energy fund. Impax then worked with a Danish bank to launch an environmental listed stock fund. After that, the company started engaging with institutional investors more widely. "It was really in 2005 and 2006, seven or eight years after launch, that we really started to scale the business, and during that time, we had to focus on talking to institutions about the background to the ideas we had identified, and be patient," says Simm.

20 years in, most institutional investors have bought in to the need for sustainable solutions. Impax is growing quickly - the boutique firm now has over £14.5 billion in assets under management. "Impax now has 150 staff, and a key lesson we have learnt from building our team is that it is really important to invest time and effort not only in the recruitment process but also in the onboarding and training programs. What we have found over the years is that if we can identify analysts and fund managers on the one hand, and client service and support people on the other who are passionate about the company's philosophy of investing in the transition to a more sustainable global economy, then they tend to work together really well. The net result is a stable team with very low levels of turnover or staff departures," says Simm.

But is the world doing enough to build a sustainable economy? Simm believes the answer is complicated. In some areas, innovation has been strong, such as in the renewable energy space, where electric power and storage are making it possible, in theory, to move to 100% renewable energy in the future.

"Where we need a step change is in the area of climate change. In the last ten to fifteen years there has been extreme weather events like droughts and storms have become much more common. It is highly likely that this is caused by human activity. The pace of mitigating climate change is nowhere near fast enough, so we need a much faster adoption of energy efficiency, more growth in clean power and resilient water supply, and also to adapt to the changing climates. In part this can be achieved through more robust infrastructure, different types of food and more resilient agriculture," he argues.

Simm believes that the investment profession also needs to develop better reporting standards for climate considerations - highlighting the work of the Task Force on Climate-Related Financial Disclosures (TCFD), which published its recommendations in June 2017 around the disclosures of climate-related financial risk.

"I think that those managing capital have an increasing responsibility to explain clearly to their clients, for example pension fund and insurance companies and individual investors, the impact they are having on society. Impax is at the forefront of thinking around impact reporting, and making sure that the companies we invest in are aware that we are looking very closely at the non-financial outputs and results they are achieving," he says.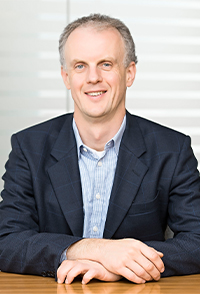 Ian Simm, Founder and CEO of Impax Asset Management