Author: Maha Khan Phillips
Building sustainable cultures, empowering young leaders, and embracing diversity are all of vital importance to Mitesh Sheth, Chief Executive of Redington.
When we meet, Mitesh Sheth is already having a busy day. It starts with an investment committee meeting in the morning, and will end late into the evening, after the launch of the LGBT+ #50For50 campaign – a campaign which commemorates Pride, and 50 years since the Stonewall movement - and where Sheth is being featured as a role model.

It is indicative of the culture Sheth has built at Redington - the investment consultancy he spearheads - one that is embracing and inclusive, and one, the genial CEO says, which requires dedication and focus, and never complacency.

Sheth began his career in 2000 as an investment analyst at Aon. After three years, he moved to Watson Wyatt in manager research, before joining Henderson Global Investors in 2005. He left the investment firm in 2012 to become an independent strategy consultant, and was initially hired by Redington to look at the viability of fiduciary management. "It was clear to me that we shouldn't be going down the same path as our competitors had. I interviewed all our clients, and I interviewed all our employees, and I really took some time to think about what the future would look like, and that's where our strategy was built up from," he says.

That strategy ended with a specific ambition: to help 100 million people become financially secure. "It perfectly captures what it is we are trying to do, and who it is we are trying to serve – the end members, the end beneficiaries," he explains.

Since Sheth took the helm as chief executive three years ago, Redington has doubled in size to 150 people, has opened new offices in Bristol and Beijing, and has eliminated its gender pay gap. "We think this industry could be doing so much more than it is, and we've lost the trust of our own investors. We will all risk ending up paying ourselves well, but not actually having done a good job by the pension fund members that are relying on the pension fund, or the retail investors who are expecting something better. Are we the kind of people who can live with ourselves if that comes to pass?" Sheth argues.

Building a sustainable culture

So how does a firm build a sustainable culture? A key aspect has been to embrace diversity. Women now make up a third of all staff, and a third of all senior staff as well, for example.
"When I took on the role as CEO one of the things I noticed is my employees were saying that we don't have many senior women. And actually, we don't have many women at the firm at all. So I think I took that on as a very explicit goal. I said how do we make us a more appealing place for women to work, and how do we understand better why it is that women aren't applying to us, and if they are, then why aren't they progressing through the organisation?"

Redington focused on three key pillars – hiring, promotion, and culture. It didn't actively target a gender pay gap, but it aimed to diversify its workforce by recruiting women at all levels of the business.

"One thing we've learnt is that we can't just hire a diverse group of graduates and hope they become your executives in the future. There are a whole host of challenges that will get in the way, least of all raising children or looking after elderly parents, or whatever else that is going to change. We often think of it as a whole load of kinks in the pipe, that you've kind of got to unpick," he explains.

The firm goes into schools and tries to address misconceptions about the City only being a male-centric environment, among other things. It offers apprenticeships to recruit people from different socio-economic backgrounds. It runs graduate programmes, but it also made an effort to hire mid and senior level women, both from competitors, and in partnership with The Return Hub – bringing women back into work who had taken time off.

"A lot of people focus on their boards, and say they need to have more women on their boards and I can see the value of that. But the biggest change for us was having more diverse hiring managers, because that's where the action is. If you've got diverse hiring managers, they will hire more diverse people," Sheth points out.

The firm has also overhauled its promotion criteria, and shifted its performance assessments from taking place annually, to having continuous performance measurement, so that the person who shouts the loudest, isn't the only one who gets noticed.

"The quietest people, and the people who just get their heads down and do it are recognised as well," says Sheth.

Empowering others

Sheth says one of the reasons he decided to take on the CEO role was because he felt that leadership needed reinventing. He wants to help create a new generation of leaders who 'really wear their responsibility on their sleeve, who understand that their role is to serve, and not just serve their shareholders but to serve their employees, not just to serve their clients, but the end beneficiaries of those clients, and to really think about the collateral damage their actions are having, or the consequences, the externalities that come from what they are doing."

He believes strongly that both he, and the wider Redington workforce, should talk openly about their mistakes and about their failures, not only so make sure the business has a culture of not being too scared to fail, but because leadership needs to change to create truly innovative and agile entrepreneurial working environments. "Our organisations expect our leaders to be infallible, and expect our leaders to be perfect, and to never make mistakes, and to just serve the shareholders, and that's where the problem begins," he argues.

Ownership

It helps, of course, that Redington is owned by its employees. "Ownership is really important. Because a lot of the tone is set from that. We are a private company, and we are owned by our founders and our employees. Having said that, I've met plenty of great CEOS and great companies that are listed, and despite the frequency of the listed reporting requirement, are really able to work with their shareholders to understand where they should be in the long term. Ownership does matter, but what matters more is being very clear about what your purpose and strategy is, because then I think you attract the right type of investors who want to be a part of that," he says.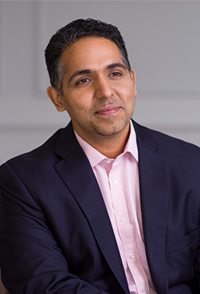 Mitesh Sheth, CEO of Redington