Author: Maha Khan Phillips


CFA Institute Managing Director for EMEA on being an optimist, and why retaining a sense of curiosity is important in fund management
Gary Baker, CFA, is rarely in one place for too long. As Managing Director of CFA Institute in Europe, the Middle East, and Africa (EMEA), Baker is responsible for strengthening relationships with the organisation's 46 regional member societies. It is no mean feat, and it means Baker is often on the road between locations ranging from Ireland to Kazakhstan, from Jordan to South Africa and many points in between.

When we meet, for instance, he has just come back from a CFA society leaders' event in Istanbul. A week later he will be in West Africa for the launch of CFA Society Ghana. He will then go on to Nigeria, which is one of his favourite countries to visit. "I think nowadays it's become more evident and more important that we are very sensitive to individual countries and to individual regions," he says, pointing out that CFA Institute is moving away from a centralised structure, towards a more regional approach. He also highlights the fact that EMEA members are a diverse group, with Serbia, Croatia, Slovakia, Kazakhstan, Ghana, and Oman all launching CFA societies in 2019. It means there is plenty of travel, but also plenty of exciting new developments ahead.

Baker joined CFA Institute as managing director for the region in 2016, after 30 years' experience in the investment industry, latterly as Deputy Head of Research at Jefferies, and as Chief European Equity Strategist at Merrill Lynch. He believes CFA Institute will play a critical role in the future of asset management.

"I'm a huge optimist by nature and I think there has rarely been a better time for CFA Institute, and for what the CFA credential does. If I look at the industry, the change that investment management is going through, and the roles that our members play, I think there is a such a vital role for our organisation in convening conversations, information, and ideas to challenge people to look at themselves, their institutions, and the wider industry for the collective good." he says.

Value for Society

We talk about how vital the CFA Institute Code of Ethics & Standards of Professional Conduct has been, and about the future of the investment profession - in particular, the growth of technology. How might artificial intelligence (AI) shape things to come?

Baker believes that humans will always have a very real and necessary part to play in the investment industry. He points out that there are not that many funds which have successfully launched in the pure AI space, and suggests that AI and human intelligence, used in combination, will offer the most successful outcomes for investors. Even still, technology will look very different in the future.

"Our research, Investment Professional of the Future, looks at the actions which firms and individuals can take to grow and succeed in the long term. We want to understand the disruptors and how firms can take positive actions by exploiting technology, building greater collective intelligence, and joining up investment thinking and practice. Above all else, engaging better by identifying client needs and managing to desired goals. It involves being crystal clear in what is our value proposition."

He does not believe, however that this will mean a dramatic changing of the skill-set of investment professionals. "There's always been a range of skills required. If I think back to any point in the last twenty or thirty years, there has always been a cadre of people who were incredibly skilled, technologically; whether they are modelling, or have data gathering abilities, and so on. Clearly that has intensified, and there is a programming basic assumption now."

He also points out that investment firms are not short on technology or computational talent. Instead, they need more creative thinkers. "To my mind, we have to continue to be human in the application of our skills. Having the ability, therefore, to speak the language of tech, while simultaneously being able to speak the language of business and people. If you look at what the research suggests, firms report that the skill-sets in the shortest supply are leadership and communication skills, and the ability to synthesise data within a team environment."

It is an important point. Baker himself entered the City after graduating from Cambridge University with a degree in geography. "I had a great generalist background, but in no way was I a financial professional. I think that's an interesting message. Traditionally UK education has been this non-vocational, broad-based education, and I think I benefitted from that. In some ways I just feel that we may be heading back that way. How do you retain a general curiosity? That's one of the key challenges for us, in a world where everything has become so specialised, and you feel that you've got to be a world expert in a particular field."

Sustainable Finance

Baker also believes that ESG will continue to grow in importance in the future, but in a broader more holistic way. "We talk about ESG, but what we are really talking about is what makes a sustainable financial ecosystem. What is finance? What would make it sustainable? That's a much bigger subject than just ESG integration into fund management," he suggests.

Part of that sustainability is giving investors access to opportunities. With fewer IPOs, particularly in the tech space, Baker worries that investors will not be able to save for a real retirement, or meet their life goals with savings. "If private companies are in the hands of the few, rather than being available to the whole of the public market, that is a problem. I don't think we have a really good answer to that at this point, but we have to keep probing.

He also highlights the ways in which CFA Institute itself is evolving. Earlier this year, for example, it was announced that after nearly 60 years of administering paper-based testing for the CFA Program, CFA Institute will transition its Level I examination to computer-based testing, starting in 2021.

"I think we always worry about relevance. How do we stay relevant, in terms of what we are trying to teach people, and educate them on? I think it's clear that computer based testing is the next step we have to take, because, for all the sophistication of how we offer pen and paper exams, that is not what people experience when they go into the marketplace," Baker says.

Over the last 12 months, about 370,000 people have sat for a CFA exam. "If you think of the logistics of getting a piece of paper and pen and a calculator to every one of those exams, it's pretty mind boggling. We collect all the exams together, put them in a box, and send them to Charlottesville, where 650 people descend for two weeks of the year and mark them. It's an extraordinary feat to pull off, but it's not necessarily a business model we'd like to continue with," he says, pointing out that computer-based testing will also give more accessibility to participants, and allow CFA Institute to be more flexible in what it can offer.

Outside of his professional life, Gary enjoys reading Scandi noir (or Italian crime fiction), cooking, music (quietly frustrated DJ), and continues to try to enjoy running.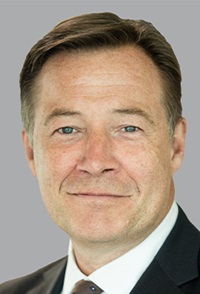 Gary Baker, CFA, Managing Director EMEA and Industry and Policy Research, CFA Institute