Author: Maha Khan Phillips
The fact that a
sset managers
are
increasing their digital content is not new, but the Covid-19 pandemic accelerated
the transition to building larger digital channels,
says Miles Donohoe.
Amazingly, it's approaching nearly two years that we've been sitting at home staring into the camera on our laptops, muting ourselves - and on occasion forgetting to unmute, and perhaps most importantly, wondering what other people are doing that they needed to turn their cameras off.
After 24 months of Teams and Zoom calls, we've all been keen to see each other in-person, whether to have a meeting face-to-face, or even simply to socialise and network again.
Yet, for all the faults and technical glitches it has also been a true equaliser – who hasn't been interrupted by either pets, children, or poor internet connections. Professionally, it also filled an important gap, as meetings moved online, and physical events began to be replicated digitally too.
For those who took the leap early enough, hosting a digital event paid off, with many recording high levels of interest compared with some physical events. It was new and exciting, and we all had time to fill. Months into a flurry of webinars and Zoom calls though, and it seemed everyone had had enough.
The 2021 edition of JPES Partners' Asset Management Trends Report, which surveys senior professionals at global and European asset management firms on a range of marketing and business issues, found that while most people had experienced 'Zoom fatigue', they also recognised that the future was most certainly digital.
A majority (59%) said that while there is a keenness to get back to some form of in-person meetings, a hybrid of virtual and physical events will remain in place in the future, having demonstrated their value over the last year. Clearly investment professionals haven't had to travel to events, meaning it has been easier to organise meetings; but equally the attendees don't have to carve out half a working day to accommodate their travel either.
The majority (86%) say there is not only more of a focus now on digital channels, such as podcasts and videos, butthat this will also increasegoing forward. One asset manager noted that the wider acceptance and consumption of digital content was even helping with new business development in a way that traditional contact had failed to do. After six months of chasing a pension fund over phone and emailfor a meeting, with little success, one manager said they finally secured a response, and a meeting, with the prospect just an hour after sending them a podcast.
Many asset managers said that this increased consumption of digital content was not new, the pandemic simply accelerated a transition that was already underway. In some cases, it even appears to have catapulted the more conservative firms forward five years in their own transition. Ongoing battles to get podcasts and video content to be a bigger part of the communications mix were won overnight, even battles to set-up regional LinkedIn pages were waved through as managers searched for any means necessary to maintain contact with clients.
As a result of this changing dynamic, 28% of firms said they were now actively looking to recruit in more digital skills. Communications strategies that don't involve, or at least consider the effective use of digital, are simply no longer an option.
This inability to see clients and prospects face-to-face also meant that others in the organisation were now asking for more content. Several asset managers said that in the past the marketing teams felt they were forcing content onto sales, sometimes unwillingly. However, as lockdown persisted this switched and there was a huge increase in requests for content from sales teams, with a particular focus on podcasts and videos.
There were of course nuances between different investor audiences. On the wholesale side, there was not just a greater consumption of digital content by clients; there was also a noticeable increase in client-specific requests such as videos of portfolio managers talking about a fund that the client could share with their adviser base. On the institutional side, however, despite some individual schemes responding well to podcasts, as noted above, relative to wholesale audiences there were lower engagement rates with digital media, and even with targeted newsletters.
What digital marketing has done is to enable asset managers to level the playing field. As one respondent noted, having a high-quality brand online isn't about having the biggest marketing budget. Digital marketing enables distribution, marketing and sales to be highly targeted, all in a cost-effective manner.
Whatever the channel being used for distribution, key is that the content still needs to be compelling. If done properly, as events over the last two years have demonstrated, digital has certainly proven its worth as a means of building relationships and even reaching new business prospects.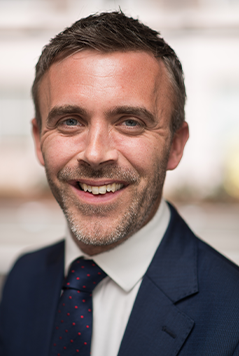 Miles Donohoe, is a Director at JPES Partners and a co-head of the firm's investment management team.