Author: Sarah Dudney

I work at a global equity boutique. I am concerned about the high level of redemptions from our UK and European retail business and feel I can help our team stem the flow. How can I transition to a client facing role to help the business this year, and what are some of the issues I need to take into consideration?
Yours awaiting advice, Disgruntled Analyst

Dear Disgruntled Analyst,

Good to hear you have a formulated a view on how to step forward within your business. Boutique investment businesses offer many benefits to employees. There is scope to work within a small team and input into the business strategy. At investor level it is also easier to focus on specific investment issues without the white noise which sometimes occurs in larger firms. It is also sometimes easier to communicate with senior management. We all appreciate that boutique investment businesses do demand a robust entrepreneurial spirit and to be flexible in order to operate around a resource constrained environment.

There is a solid history in fund management of a niche cohort of analysts and fund managers making the move into a client facing role. This role carries different titles; investment director, product specialist and client portfolio manager. This may be the role you wish to consider as you transition out of a purely analytical one. When I first became aware of this from a recruitment angle, of it was actually within fixed income, and arose when large institutional UK investors moved away from so called balanced mandates into a core and specialist mandates including credit. This was in the early 2000s, and was in part prompted by significant pension funds like Boots, diversifying their strategy out of equities. Other investor groups then followed. There was a requirement for more specialist client facing and sales professionals to make the case for that investment strategy and to ensure clients (retail and institutional) were clear about what they were investing in and why. It was at this time that the concept of the client relationship manager's role also diversified and became one of technical education, mandate defence and in some cases front line selling. This type of client portfolio manager could be the type of role you are considering. Doing a front line sales role can be exciting and challenging, but you may want to see that as a possible end point in your career when you are have developed more client facing skills.

Jumping to today and your current career question, this role is still very much in demand and since developed different nuances. Where the role works at its best is when it is situated close to the fund managers' desk so that they can provide a "cordon sanitaire" for the fund managers. The alternative is for the role to be situated within the distribution function.

This role is often the voice of the fund managers. Successful individuals in this role have to know every single detail of the portfolio, underlying stock choices and the rational there in order to explain them clearly to the target audience. This can be a very rewarding way to deploy your technical knowledge and puts all that CFA knowledge to very good use. Letting your investor colleagues invest without distraction is a valuable function, particularly in times of uncertain markets. This role works well in retail and institutional markets. Regardless of the markets you serve you have to be able to really understand your client base, their psychology and their risk and return appetite. This will be tested in the interview process as you make your case to make that transition, either internally or externally.

One additional element which has emerged in the role as also acting as a proactive ambassador for active equity. This serves a critical philosophical and commercial function which possibly did not exist 10 years ago, but, with the arrival and integration of cheaper passive funds, is now a necessity. For this you will need to deploy an ability to convey complex financial concepts in a succinct way and keep the messaging consistent, be that on social media or in quarterly reporting.

No career transition happens overnight, however much we desire that. You may want to do a process of understudying your distribution colleagues. That way, you can really understand the client base and their regulatory parameters. The most successful client facing professional always understands their clients' inner most fears and ambitions for their investments. As well as the markets.

Good luck.

Sarah Dudney
Client Partner
The Buy-Side Club

Career queries can be emailed confidentially to marketing@cfauk.org. It may not be possible for our consultant to answer every query. Sometimes, we will amalgamate queries we receive from a variety of different channels.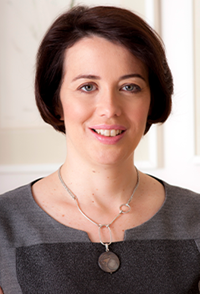 Sarah Dudney is Client Partner at The Buy Side Club