Author: Matt Rogers
Asset owners want their managers to demonstrate a positive corporate culture, says Matt Rogers, Head of Investment at JPES Partners.
2022 was arguably the most challenging year for asset managers since the Global Financial Crisis, and this year seems to be bringing its own challenges and uncertainties.

These experiences have gone a long way in shaping asset owner sentiment, influencing the ways in which decision-makers select and engage with investment managers. It is on that premise that JPES Partners conducted a detailed survey of asset owners, comprising senior pension scheme, wealth management, fiduciary management and charity decision-makers responsible for a total of £800 billion of assets.

The results are, frankly, stark and do not paint an overly rosy picture for the industry, albeit potentially presenting opportunities for some managers to gain new business and grow market share.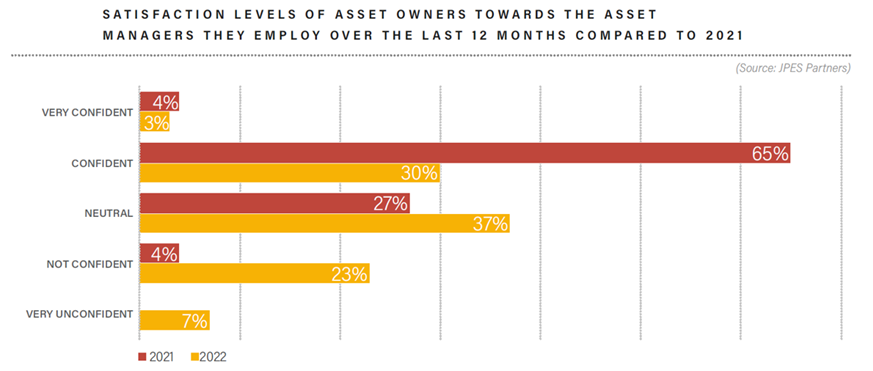 Perhaps most concerning are the levels of confidence asset owners have towards the asset managers they employ, which has dwindled significantly over the last twelve months. While 69% of asset owners surveyed in 2021 claimed to be 'confident' or 'very confident' in their underlying manager roster, just 33% claim to have the same view twelve months later. Further, almost two-thirds (65%) of asset owners surveyed indicated that they were 'likely' or 'very likely' to make changes to their roster of managers in the next year.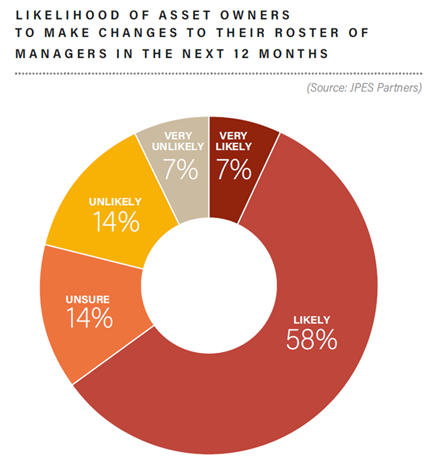 Such a sharp fall in confidence should cause alarms to sound, particularly from a client retention perspective (though it could also signal opportunities for some managers to gain share from competitors), especially when the root causes of this dissatisfaction are considered. Investment performance (with 75% of respondents being 'dissatisfied' or 'very dissatisfied') is clearly a key consideration; but also worrying is dissatisfaction with the ability of managers to respond to a crisis (41%) and the quality of information being provided to asset owners (41%).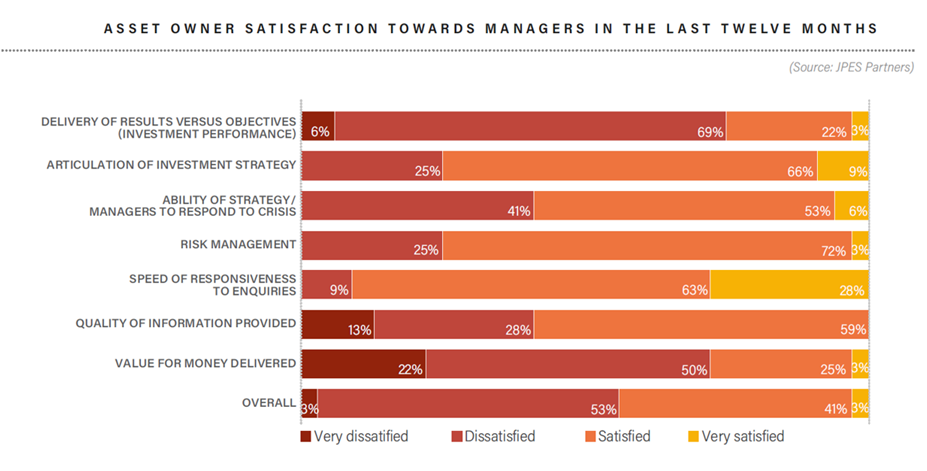 Selecting Managers: asset owner priorities
While the challenges of the last twelve months should naturally give rise to asset owners adopting a more critical tone, the sharp fall in levels of satisfaction and the reasons cited for this should give asset managers pause for thought. It should also prompt service providers to think carefully about the priorities that asset owners have when selecting managers, as this can have important implications for how relationships are subsequently shaped and assessed.
Of the asset owners surveyed, all identified team quality and continuity as a key criterion in manager selection, while the ability to explain investment strategy (85%) and how investment processes are structured (96%) also ranked very highly. Interestingly, a record of outperformance does not feature as strongly, with only just over half (54%) of respondents seeing this as a key issue.
But perhaps most notable among these findings is the importance that asset owners are placing on asset managers' ability to demonstrate a positive corporate culture, with 92% agreeing this is an important aspect of manager selection.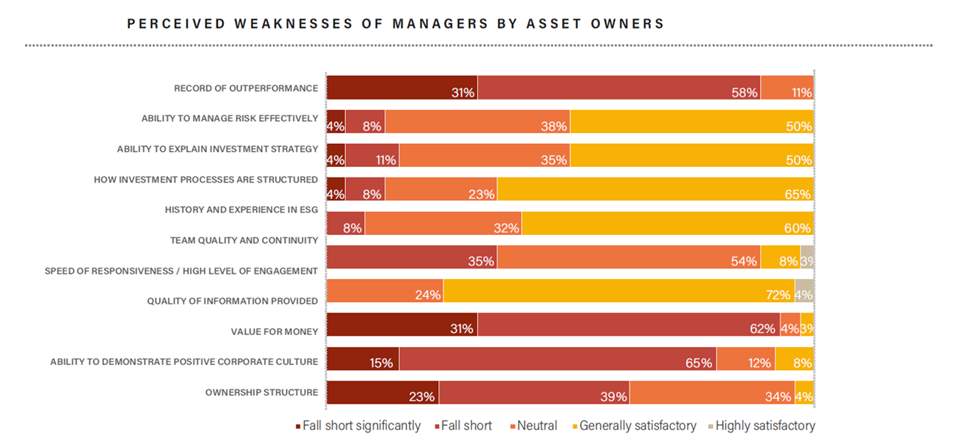 This issue of positive culture and the importance placed on it by asset owners is an interesting one, particularly as the idea of a 'positive culture' could be considered subjective with different aspects of a business culture having different resonance with various audiences. In the recent past environmental, social and governance (ESG) considerations have been perceived to go hand-in-hand with cultural considerations. Managers asking underlying securities to adhere to certain practices while not doing so themselves was frowned upon, while concerns around greenwashing and transparency were both big issues at individual business and wider industry levels. The idea of being seen to 'practice what you preach' shaped a lot of asset manager interactions with their clients.
These things cannot, and of course should not, be minimised or forgotten about, but in many ways the focus on culture has become more defined and acute. Asset managers today need to be proactive in supporting a positive culture, with an approach of 'practicing what you preach' potentially no longer seen as being sufficient.
Some of this increased focus on business culture is inevitably the result of the COVID pandemic. The experiences of a global lockdown were traumatic for many in all sorts of ways, and in themselves provided something of a measuring stick to assess how businesses conducted themselves in trying circumstances – how were staff treated during lockdown; what measures did businesses put in place to support employees; what efforts have been made to facilitate a return to the office and provide greater flexibility for people whose personal circumstances may have changed considerably?
These experiences are, however, just one aspect. The issue of culture and the importance being placed on it by asset owners extends far further, touching on a wide array of investment businesses' activities. Approaches to recruitment; team interaction; cognitive diversity; aspects of equality – all of these things and more are areas that asset owners (and their intermediaries) are increasingly scrutinising, with asset managers expected to provide clear evidence these are leading to a positive working environment which, in turn, is improving outcomes for end investors.
Unfortunately, in the eyes of asset owners, while this ability to demonstrate a positive corporate culture is viewed as a key aspect of manager selection, the perception is that asset managers are not doing enough in this area. 80% of asset owners surveyed indicated they felt managers fell short in demonstrating they maintained a positive corporate culture, a concerning statistic given its importance.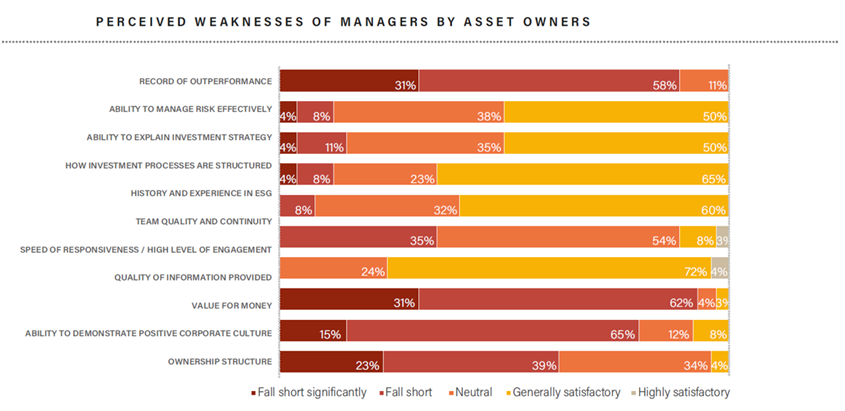 What, then, can managers do to adjust these perceptions? A relatively straightforward means of redress is to develop examples and case studies of how businesses are undertaking certain activities that influence corporate culture over time. This could be showing examples of how firms are recruiting from underprivileged demographics; case studies to show how cognitive diversity is being employed to enable better (investment) decision-making; or the policies and initiatives that asset management businesses are implementing to engage with, and have a positive influence on, wider society.
Communication and engagement are also vital. There is little benefit in having these examples if they are not proactively promoted to asset managers' end audiences. Employing means to deploy these and showcase businesses' attributes is therefore also key, as is asset managers using opportunities to engage directly with their clients and prospects to understand at a granular level what these audiences are looking for and what will 'move the dial' when it comes to manager selection.
In this context, there is clearly much work for asset managers to do. Those that consider the evolving priorities of their underlying clients carefully and are active in addressing their concerns and requirements, as we begin to emerge from a very trying period for the investment industry, will be well placed to succeed and grow. Those, however, that fail to do so risk falling behind in a highly competitive marketplace.
Matt Rogers, is Head of Investment at JPES Partners