Author: Maha Khan Phillios
Should companies be embracing corporate kindness? Pinky Lilani, CBE, certainly thinks so.
When we speak, Pinky Lilani tells me the story about how she once took her wok to the Bank of England, where she cooked her famous spicy Bombay potatoes. That wok, it turns out, is well travelled. Lilani, an author, motivational speaker, food expert, and women's advocate, has cooked in her wok at universities, corporations, Ted Talks, and award ceremonies, and for good reason.
"Food for me, is always relevant. It's a way to bring people together. It is nurturing, and it builds cohesiveness," she says.
Lilani didn't really know how to cook when she moved to London from Calcutta in the late 1970s as a newly-wed. Nor had she imagined having a career. "I thought I would be like my mother, who was an amazing homemaker and hostess," she says. Instead, she went on to write Spice Magic: An Indian Culinary Adventure, to become a food expert, and then go to on to launch several key awards and networks for women.
In 1999, Lilani set up the Asian Women Achievement Awards. She then went on to found a host of global events to support the female leadership pipeline – among them notably the Women of the Future Awards. "I think women have been marginalised, and we've seen this in the pandemic. It's important for women to find their voice. For me, I want those unknown stories, I want to break the stereotypes, break pre-conceived notions. Women are so overwhelmed with the pandemic that many are re-thinking their career paths. I don't want them to downgrade their aspirations and expectations," she says.
In recent years, Lilani has set her sights on a new initiative – to get corporations to embrace the notion of kindness. "For me, kindness makes business sense. Kind leaders generate loyalty and they motivate people. They say that when you are a kind leader you go from being successful to being significant. Leaders want to be successful, but they also want to have a legacy," she argues.
Kindness has always been part of the DNA of all her programmes and her life, Lilani says. "I was brought up in a Muslim household where kindness and compassion were always important. I believe by nature, people are empathic and compassionate, some more than others because of what you are going through."
In 2018, she founded the 50 Leading Lights Campaign, both in the UK and in Southeast Asia, celebrating phenomenal, kind leaders. Research compiled by Hall & Partners and the Saïd Business School, in partnership with the Women of the Future Programme, has revealed that organisations that value kindness come through crises more successfully than those that don't. Employees see kindness as highly motivational.
So how should leaders incorporate kindness into the corporate world? For Lilani, it is about honest and open communication, about bringing out the best in people, and boosting confidence, adaptability, and resilience. She also believes it's about individual responsibility. "You have not lived a perfect day unless you have done something for someone who can never repay you. Once you decide that is your mantra, it's not a difficult thing to do. It could be talking to your colleagues and telling them they have done a good job, or even wishing someone a lovely day. These are small things, but they are so powerful. We sometimes underestimate the negative effects of being unkind, but there are huge positive effects to being kind," she says.
Most days, Lilani walks around London with five gold chocolates in her bag, she says. "I give them out every day to someone, it's lovely to see their expressions. For a lot of people, we live in a world that's so fragmented and so full of stress. Every day the anxieties are so monumental, I think kindness calms the soul."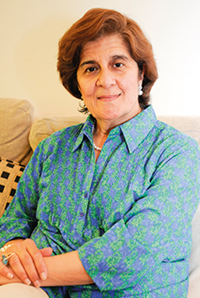 Pinky Lilani, CBE