Author: Will Goodhart
ESG Investing is simply common sense. Climate change and the Sustainable Development Goals are generating risks and opportunities. Systematically integrating ESG factors into the investment process gives investors the opportunity to manage risks and to direct capital to new aspects of mitigation, adaptation and resilience.

It is also now proven that implementing ESG investment strategies will have either a neutral or positive impact on returns and lowers borrowers' costs of capital. Asset owners and their investment managers are keen to get started or to deepen their involvement, but it's sometimes hard for people to know where and how to start.

Our members have been telling us that there is a real need for an industry wide body of knowledge. They have asked for a coherent framework to ensure practitioners are equipped with the right tools to advance ESG investing and build the credentials that will enable their firms to remain relevant and competitive. To support this, we took the initiative to bring together industry experts to fill the ESG learning gap and develop the UK's first industry approved ESG qualification.

Our working group of portfolio managers, ESG specialists, investment consultants and regulatory experts came together to create a certificate that tackles the fundamentals of ESG investing. From this collaboration came the development of a comprehensive syllabus that provides practitioners with a non-prescriptive approach to implementing their ESG strategy.

But it also has a broader purpose. It paves the way for a commonality of ESG understanding, enabling practitioners to better engage with investors, peers and stakeholders.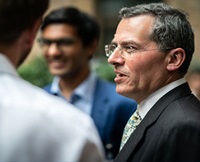 Motivations and approaches to ESG will vary from one organisation to another, each following its own interpretation of what constitutes the best environmental, social and governance-led investment strategies to deliver returns for end-investors. The certificate doesn't' preach one way for investors to invest. Evolving markets require a variety of views and approaches. Our role is to ensure practitioners are equipped with the right tools so that they are technically and ethically competent to act in their clients' interests.

We are proud and excited to launch the new certificate and look forward to working with the market to build and adapt it over time. The investment sector can play a vital role in shifting capital as we move to more sustainable economic models. We are early into this important journey. We hope that the certificate will allow the investment sector to accelerate its progress and to demonstrate its purpose.