Author: Will Goodhart
Each year when CFA UK members join or renew their membership they re-affirm their commitment to ethical excellence by agreeing to adhere to the code of ethics and professional standards. These guiding principles act as a reminder to build ethical decision making into everything that our members do. We regularly survey our membership to get a sense of how challenging they find it to uphold the code and standards. We skipped a year last year – for the obvious reasons – but this year's results give some reasons for both optimism and concern as well as highlighting some of the additional issues that have arisen from working from home.
The good news for the profession's clients is that respondents in this year's survey report that it has become considerably easier since our 2019 survey to avoid or mitigate conflicts of interest, to maintain duties to clients and to uphold professionalism. It's unsurprising then that most respondents feel that the profession is held in a slightly higher regard today by both its clients and society more widely than it was a few years ago.
Variation of viewpoints
However, the news is not all positive. There has been a small increase in the proportion of respondents that describe adhering to the code and standards as being challenging in the past year. Most respondents always score the difficulty of maintaining the code and standards as pretty easy (giving it a score of one, two or three out of 10), however this year the cohort scoring it between eight and 10 out to 10 increased to 16% from 13% in 2019.
The challenges have come in three areas: around market integrity and duties to employers, but in particular in relation to financial analysis. In previous surveys when markets have been at relatively high levels, we have seen an increase in the number of respondents reporting that it has been challenging for them to maintain the standards relating to analysis, recommendations and actions (such as diligence and reasonable basis; communication with clients and prospective clients and record retention). The same is true this year with 34% of respondents highlighting this as challenging in the past year, up from 22% in 2019
Few respondents indicate that maintaining the code and standards around market integrity (issues such as market manipulation and management of material, non-public information) is a challenge for them individually, but there has been an increase in those that have done so this year (up to 15% from 11% in 2019) and more respondents (38% up from 31%) also reckon that this has become more of an issue for the market as a whole.
It is also the case that this year's respondents reckon that maintaining duties to employers has become more of an issue for the market as a whole even if it hasn't been challenging for them personally.
Hidden complexities
It's hard for us to comment on what's driving the results as we don't survey our members on the reasons behind their responses, but we do give members the opportunity to comment. A notable theme in the comments suggest that the challenges of working from home may be behind some of the shifts that we have seen this year.
The comments copied below give an indication of how working from home might have had a negative impact on market integrity and duties to employers:


"Working from home during the Covid pandemic has added an extra layer of difficultness in a complex industry (asset management) and has meant hyper awareness of codes/standards/regulation/policies/best practice/deadlines and still achieving deliverables."
"More difficult to submit trading reports to Compliance much more problematic with no access to office infrastructure."
"Lack of direct contact with employers and missing informal channels. Difficult to keep updated on regulatory changes."
Peer pressure
While some respondents indicate that it has been easier to avoid ethical challenges that might have arisen under peer pressure, others suggest that the lack of informal engagement with colleagues has made it more difficult to identify and address concerns:
"Working from home has disrupted many working processes and made it harder to engage with colleagues and monitor working practices."
"The distance from people puts more barriers between people. Usually, ethical situations can be addressed in conversations with others, but the distance makes it harder."
"With everyone working from home, it is more difficult to monitor individuals and ensure that people are still adhering to the highest standards given the extreme limitations for some people sitting in their kitchen with a laptop for example trying to deliver a service to HNW private and corporate clients."
"Remote working has led to an increase in pressure to get things done, sometimes without the correct infrastructure to do so."
Security flaws
A number of respondents believe that Covid and working from home has had a direct impact on their ability to build a reasonable basis for a view on a security:
"The quality of investment analysis has dropped due to WFH and lack of being able to talk face to face to management teams. Furthermore, due to the lack of space at home (living in London) my partner may have been privy to confidential information that she would otherwise not receive."
"Lack of visibility hindering proper review and analysis. Communication with clients and proper reporting have been disrupted."
"WFH made the maintenance of systems and records more challenging. Investment research was made harder with professional commitments at home."
"Company disclosure has been delayed in some cases due to the pandemic, and companies have been acting in ways they wouldn't normally, shoring up balance sheets. It has made it tougher to do the required investment analysis and due diligence."
"Difficult to gain access to management - who you would normally have discussions with before making investment decisions."
Looking forward
Overall, the outlook remains broadly positive. The society's members – a snapshot of the broader profession – remain concerned about and aware of the need to maintain high professional and ethical standards. Most would avoid working for firms whose values did not align with their own or did not act ethically in their clients' interests, but the past year has thrown up new challenges as hybrid working becomes the norm. CFA UK are working on ways to highlight the potential challenges that investment professionals may face and how to provide appropriate guidance and training to help our members address those.
About the survey
The CFA UK Ethics and Professionalism survey ran during May 2021. It was open to all CFA UK members and there was a total of 393 respondents.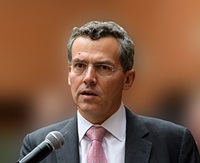 Will Goodhart, Chief Executive of CFA UK