Author: Laura Bottega
Laura Bottega has spent over two decades in the investment management industry. She reflects on her own journey, her efforts to advocate for gender diversity, and some of the lessons she's learnt along the way.
Over twenty years in an industry mostly dominated by men, I have cultivated the workplace persona of the alpha female - shorter deliberate sentences, dynamic verbs and unapologetic instructions. My supportive husband may quip that is not just my workplace persona!
As a global equity portfolio specialist and previously a sell-side analyst and marketing communications professional, the topic of 'who gets heard in the workplace' has always fascinated me. The global pause for thought afforded by the COVID-19 pandemic, the recent global protests on racial inequality and the #metoo movement, combined with the growing body of research demonstrating the advantages of diversity and inclusion, all point to 2020 as a watershed year for diversity in the workplace, both generally and in investment management.
I have long supported greater representation of talented women in our industry, most notably through participating in Morgan Stanley's Step In Step Up programme encouraging secondary school girls to consider a career in financial services. A fascinating and potentially rewarding journey in ever-changing financial markets awaits those bold enough to apply.
The competition for strong female talent in Alphaville has now reached the point of commercial imperative, and the most enlightened male leaders have recognised this and thrown their energies into recruiting and developing diverse talent. The remote working experiment that we all find ourselves in has also encouraged more open attitudes to flexible working, which will no doubt create more opportunities for those juggling the demands of children, partners and employers.
The lessons that I would offer aspiring female professionals and gender champions have a lot to do with my upbringing in a divided South Africa – particularly my experiences of what it means for all sides to transition to a more just and equal society, and what it means to a person's dignity to be truly seen and heard. As a child of the 1980s, with television having just been introduced in 1976, I was also exposed to a number of strong female role models: from fearless cops, Cagney & Lacey, to glamorous suits in LA Law and Working Girl, and women who talked back from Cybil Shepherd in Moonlighting to Margaret Thatcher. In my first internship covering money in politics for CNN in Washington, journalist Judy Woodruff stood out amongst a sea of grey suits. She commanded attention with a stare or a narrowed eye and she underscored the importance of having your facts correct.
My early roles, at a variety of financial institutions in London and New York, were about realising that hard work was only the foundation of a reputation. I also learned it was important for me to project the right image - to walk, talk and dress like I meant business, and to be especially informed to offset any preconceptions about women talking about money.
Senior male managers and mentors proved important for me in unpicking some conservative social conditioning. For example, at school, girls were often encouraged to play nicely together, to trade compliments and identify compromise, to smile and take up as little space as possible and to find solutions where everyone could be happy. These skills became less useful and as I climbed the ladder, developing an ability to identify power structures and powerful individuals, to connect on topics other than work, and not to take criticism personally became increasingly important. While I have had a lot of supporters in my career, I have had some who didn't see my potential, but rather than listen to their views, I have used them as fuel for motivation to reach my goals.
In the early stages of my career, I learned to be mentally tougher, to see the long game, and to recognise that some people seek win-lose solutions rather than win-win solutions. I also learned to proffer, not reserve, my opinion and to quickly credentialize and hold my own in a room, whether it be in front of 35-year-old sales traders or sceptical 65-year-old pension trustees asking if I had brought a man along with me to speak. Yes, women could talk about money. But it was also useful to have male allies along the way, one director of research in particular, who on one occasion shouted down his colleagues saying, "Shut up and let the lady talk!". I also learned what it meant to have a sponsor invite you to participate in a next level meeting or to speak up for you in the right circle. I owe much to my father, who gave me the following advice: to get closer to the action, to the clients, to the decision-making and the money.
Over time, I have become an alpha female, not least because of my passion for equities but also because I was playing to my strengths. The growth mindset, 'if I fail, will I try again?', interests me less than a success mindset, 'if I win, what can I win at next?' Being an alpha female with contagious confidence has certainly helped to propel me forward, but I realise this is also a product of my own personal and career experiences. I see evidence that times are changing, but to continue this momentum the industry needs to collectively create a platform where women can be who they want to be, thrive in their careers with the support of their managers and mentors.
The industry demands a great variety of skills – technical expertise, strategic thinking, a client service orientation, innovative marketing agility, an ability to inspire trust – all suggesting there is room for a broad diversity of talent, skills and styles. My path worked for me, but not everyone will have the same experiences. Women looking to financial services as a potential career opportunity will forge their own unique paths. However, positive careers do have things in common - someone with ambition, knowledge and drive to succeed.
I work for a company that offers a highly conducive environment for women to flourish. We celebrate individuality, recognise, and reward personal contribution. We understand that a career is part of a balanced life and we encourage healthy long-term careers, with family friendly policies. A supportive employer who congratulated me on each of my children, maternity coaching, and flexible terms on my return to work have all allowed me to seek success in my career while being able to balance with my life at home. Along the way, I have been part of onboarding, training and developing, mentoring and sponsoring swathes of bright young female recruits. This includes insight days for schoolgirls to university internships, to single sex, mixed gender and personal coaching to opportunities to hear from inspiring speakers in active networking and affiliation groups such as the Women's Business Alliance.
As a gender advocate, I am alert to the potential of talent around me: I look for ways to encourage and connect, I boost confidence when it seems lacking and I am not amused by hints of discrimination. I am not a bystander and I challenge behaviour that is counter to a culture of inclusion.
Of course, challenges for the industry remain, including the number of women in portfolio management roles. But programmes such as Girls Who Invest help to fill the 'early years' training gap. Moreover, the industry's move to team-oriented management should mitigate concerns about how personal track records survive periods of maternity leave.
What is more encouraging? Ever more senior women in CIO roles at our clients and leading consultants continue to demand to see their image on the other side of the table. There is more thought and energy going into talent development and diverse recruitment. More women taking up roles in ESG and sustainable investing are asking harder questions about the role of diversity in the investment process, and the role of diversity in the culture of the companies in which we invest. More female clients are asking for investment products and strategies that recognise a gender lens can be a useful tool to align their investments and their values.
Ultimately, as investment managers, we know that money talks – while our generation must continue to make forward steps, it is also incumbent on us to understand that women represent a financial opportunity in the client base, in the employee population and in the future leadership of the most successful investment firms. I am also encouraged that my daughters find "girl power" boring – the next generation doesn't feel that it has anything to prove.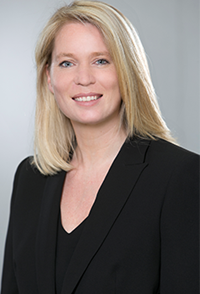 Laura Bottega is Managing Director, Morgan Stanley Investment Management