Author: Maha Khan Philips
Gina Miller is widely known as the activist who made headlines through her anti-Brexit campaigning. But the Co-Founder of SCM Direct has also been raising awareness about inequality and unfairness in the financial system for many years. Now, she's set up a platform to educate and engage women through the investment process.
The Covid pandemic has left many groups in vulnerable positions, not least among them women. The socio-economic fallout of Covid-19 on women has been profound. Data from the EU reveals that Covid could push an additional 47 million women and girls below the poverty line worldwide. Women are over represented in some of the worst-hit job sectors, and they provide the vast amount of unpaid care. If ever there was a time for women to be engaged in their financial futures, it is now.
SCM Direct, the digital wealth manager Gina Miller co-founded with her husband 12 years ago, wants to empower women in exactly this way. The firm has launched MoneyShe, a female-focused information and resource centre aimed at increasing women's confidence about investing.
SCM Direct has been a vocal campaigner for fairness in the financial system since the Global Financial Crisis. It has produced extensive research on hidden fees, closet indexing, liquidity and mispricing, fund labelling, lack of holding transparency, and greenwashing. Now, it is highlighting the ways that women are being left behind in the investment process.
"Aspects of female vulnerability have been amplified during the Covid pandemic, and it is important to us that we try to practically help. As a business, thirty-nine percent of our clients are female, and we know from them that increasing investments and pension knowledge, understanding and confidence is vital to making them active investors," Miller says.
She highlights the enormity of the pension gender gap in the UK. The gap between women and men in the UK increased by 40.3% in 2018 and 2019, according to the trade union Prospect. It was double the gender pay gap that year. "There has been so much focus on the gender pay gap, but the gender pension gap is so much bigger," she points out.
A New Platform
MoneyShe has launched with brochures, a retirement tip sheet, and a cost questionnaire. In time, there will be a blog section, a story board area where women can share their financial experiences, put up stories and provide feedback. Eventually, the platform hopes to provide and host events as well.
"We don't want to just launch of a whole range of products. We want to launch a small suite of products and then build on the feedback that we get," explains Miller.
She wants to bust the myth that the industry needs different financial products for men and women, highlighting instances where financial institutions have been patronising to their female clients. "It's ludicrous. Women need better communication, not different products."
She also believes that other underrepresented pension groups, including the BAME community, the disabled, the LGPBT+ community, and the self-employed, need to be part of the education process, to ensure the long term financial viability of large numbers of people. "We have got to become more proactive in encouraging people to save and invest and look after their financial health. Many vulnerable groups are not getting the duty of care that they need. In the UK, we have significant pension groups where the public purse is never going to be able to give them an adequate lifestyle in retirement. These people have worked hard their entire lives. As an industry, we need to help people to become more educated for their future," she argues.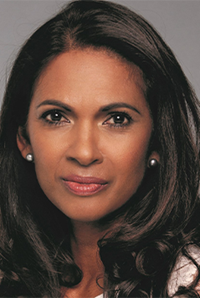 Gina Miller, Co-Founder of SCM Direct