Author: Andrew Smith, CFA
Andrew Smith, CFA, shares his experience of being a mentor in the CFA UK Mentoring Programme 2018.
2018 was the first year that CFA UK ran a mentoring programme. I acted as a mentor and found the experience very rewarding. It is easy to see the benefits for those being mentored; having access to independent and candid advice can help with important career decisions. There is plenty to learn from being a mentor as well.

The CFA UK scheme is free of the potential conflicts that can arise from a mentoring relationship within your firm. Gaining honest feedback from junior colleagues can often be difficult whereas working with a mentee outside my firm was very refreshing. Discussions were open and ideas flowed freely.

Helping someone else distil their long-term career goals into an actionable plan is rewarding. I was also able to receive feedback on the decision-making frameworks I had developed for making career choices. It is extremely valuable to get the perspective of someone at an earlier stage of their career with a different set of experiences. This helped me to evolve my own thinking on how to find the information required to make important choices. Searching the web can be great, but there is no substitute for developing your network and speaking to people.

At the basis of a mentoring relationship is feedback and advice. Receiving feedback on your ideas is one of the most effective ways to refine your thoughts. It follows that giving clear and actionable feedback is an important skill. Being a mentor gave me the opportunity to develop this and had a direct benefit on how I now approach giving feedback at work.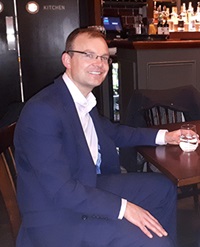 Participating in the scheme also gave me the opportunity to learn about different aspects of the investment business. Our industry is vast and full of many niches. My mentee was able to teach me about their area of expertise. Joining the scheme also introduced me to a group of investment professionals that have helped me to expand my knowledge base.

My experience as a mentor was helped by the attributes of my mentee. They were a good listener and always followed up on their commitments between meetings. I would encourage anyone being mentored to focus on these two points to help build a positive relationship.

Finally, the experience opened my eyes to how many people are helping CFA UK via volunteering, and the dedicated team at CFA UK that work hard to make events and schemes like this run effectively. Thank you to all of them who helped make the 2018 mentoring programme a success!
Become a mentor in 2019
Apply to be a mentor to develop your leadership and communication skills, build your professional connections and help support someone else's professional development. Applications close 3 March 2019.