Author: Maha Khan Phillips
Lucy Walker, CFA, is senior associate partner at Sarasin & Partners

Lucy Walker, CFA, believes passionately in diversity, but only if it is not a box ticking exercise. "It's about bringing different thoughts to the table, and different perspectives, to ensure that when companies are going through difficult times, they are making the right decisions for their future. But diversity for diversity's sake is pointless," she says.
Walker entered the investment profession a decade ago, and rose quickly through the ranks. She is senior associate partner at Sarasin & Partners, managing four in-house funds (the Sarasin FoF Strategic Growth, FoF Global Diversified Growth, FoF Global Growth, and FoF Global Equity funds) and she also manages a direct multi-asset portfolio.

"What is nice is the philosophy of selecting fund managers does to a large degree cross over with the philosophy of selecting stocks. I want to invest in a manager that is truly long term, that is focused on the prices it pays and that is aligned with investors. If you take that and translate it to company management, you want to invest in a company that doesn't care about short term quarterly earning numbers as much as the long term, that cares about the price it pays for acquisitions, and where there is true alignment of interest. It's about getting into the skin of the companies," she explains.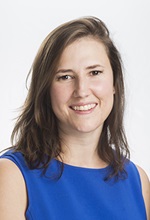 Walker, who was a finalist in the Women in Investment Awards 2018 for the Fund Manager of the Year category, believes more should be done to encourage diversity in asset management. "The majority of chief executives are hired from the chief operating officer position, and only a fraction are hired externally. Of course that means very few women and minorities will be hired, because the pipeline is not there. Although this has to be a top down thing, it's also got to work from the ground up. Companies have to be introducing policies to ensure that this is feeding all the way through, because at any stage in the pyramid, you lose women or minorities, and that is an issue for diversity of thought."

In her free time, Walker is also deeply passionate about charity work, acting as treasurer and trustee of KEEN, which supports children with disabilities. She also sits on the audit and risk committee of Sports Aid, and helped set up the charity committee at Sarasin. She is married, and expecting her second child.
Are you passionate about inclusion and diversity? Our network is free for all investment professionals to join. Become an inclusion and diversity champion today.