Author: Maha Khan Philips
Paris Jordan, CFA, is a multi-asset analyst at Waverton Investment Management, and founder of Virtuvest, the ethical investor network. She talks to Professional Investor about her journey into ethical investment management, founding Virtuvest, and why more needs to be done to build an inclusive industry.
Before Paris Jordan, CFA, joined the investment industry, she knew very little about finance. Jordan, the first member of her family to go university, had studied Politics, Philosophy, and Economics at the University of Hull, graduating in 2012. When she completed her degree, she wasn't sure which direction her career would take.
"I was from a low socio-economic background, and I didn't know what jobs were available in the world, let alone in the finance space," she says.
Jordan placed her resume on CV Library, and received a call from a recruiter about a role at Fidelity Worldwide Investments, speaking with advisors and supporting them on the firm's fund network platform. She took the role.
She spent the next two years as a key account associate, and learnt a great deal about funds, stocks, and investment vehicles. "I was genuinely absorbing everything that came my way. I was lucky that I fundamentally enjoyed helping advisors with their investments. Even from an operational perspective, it was a fantastic learning experience."
She realised she wanted to move to the investment side of the asset management business, and joined what is now Sanlam Investments in 2014, in an investment reporting position. "Because we were a small business, I had a lot of exposure to fund managers and investment teams. It was a real training ground for me in starting to understand investment styles and asset classes," she says.
In 2016, Jordan moved into a fund research and analyst role. At the time, she was doing a great deal of charity work in her private life, both in terms of mentoring and fundraising for charities, and she spotted an opportunity to bring that passion into her career.
"We had a small ethical portfolio that was being run for a small number of clients, and I felt that it aligned with my own personal views, and tied up to what I was doing with my professional life, so I asked the chief executive if I could take up the portfolio. They thought it was a small portfolio in the corner, but it ended up with me building a whole ethical portfolio range for Sanlam," she says.
Launching Virtuvest
Last year, Jordan launched Virtuvest, alongside Sophia Sednaoui, a business development professional at Carmignac. Virtuvest is a collaborative network for investment professionals with a focus or interest in ethical investing.
"I had found that, in most of my career, I was being told by asset managers what ESG was, with each one telling me something different. I was then teaching clients and advisors about ESG by filtering all this different information down into my own view, which I would channel. Who knew if my view was right? Who knew if I was getting enough different perspectives, especially if I was trying to affect change? At conferences, I would get together with my peers, and we would talk about 'good' funds, and what we thought about allocations in ESG portfolios. But there was no other forum for us to collaborate, to challenge each other, and to work to educate, inform, and guide managers into what best practice looks like," Jordan says.
Virtuvest set up a steering committee a few months ago, with representation from across the wealth management and advisory business world. "We wanted to make sure we were covered across the board, and also that we included diversity in terms of location and thought. The steering committee's aims are to discuss issues we have seen in the marketplace, such as greenwashing, standardisation, third party rating systems, and education."
Virtuvest has selected two issues in particular to focus on, and has created working groups around them. The first is a guideline for best practice for asset managers. "It is a chance for asset managers to hear from fund selectors about what we expect in terms of minimum thresholds, milestones, monitoring, and ongoing engagement. We each work in different firms, with different thresholds for what we expect, so a guide should be useful in that it will save money and hopefully bring people together to discuss what buyers really want."
The other issue Virtuvest is focusing on is education. "There is a lot of information out there, and we want to make sure that people like heads of operation, business channels, chief executives, managing directors, and directors of the board have an understanding of what ESG is, before they start writing policies on it. Our role is not to educate these people; it is to work how to make education accessible to them."
So, given the amount of ESG 'noise' in the marketplace, how much education is necessary?
"Noise is just a polite term for greenwashing," Jordan points out. "There is a lot of new information about ESG, and that is not noise. For me, 'noise' is when fund management groups who have never been proponents of sustainability all of a sudden have been proponents for fifty years. You can cut through that noise by asking for evidence. Show me some statistics, show me the facts, ask for examples and evidence."
Diversity and Inclusion
As someone who had not known about the investment industry until she had been approached by a recruiter, I ask Jordan whether asset management has gone far enough in terms of diversity and inclusion, particularly in recruiting people from different socio-economic backgrounds.
"In my view, we have barely even started tackling diversity in the investment industry," she responds. "There are some brilliant initiatives, but it still feels like the elephant in the room. Everyone knows there is an issue, because they do their culture surveys and employee surveys and get feedback. But it's a tricky area, because you don't have to disclosure your background to your employers. That makes it difficult to measure diversity and inclusion. Companies don't actually know if they have cognitive diversity, or socio-economic inclusion, for example."
Employers should review their hiring policies, their maternity and paternity policies and also initiate outreach programmes, she suggests. "You cannot encourage people when they don't even see your advertisements. These things have to start at school, or even before school."
In her free time, Jordan remains passionate about the charity sector. She is a trustee for Rising Girl, a charity that focusing on empowering and inspiring girls globally by providing educational opportunities. She also loves to read, hike and kayak, and rides motor bikes.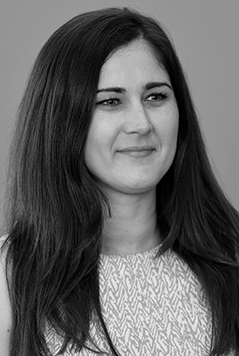 Paris Jordan, CFA, Multi-Asset Analyst, Waverton Investment Management