Author:Joanne Frearson
Professional Investor talks to Stacey English, Chief Digital Officer at Corlytics, who was due to be a keynote speaker at our cancelled Fintech Forum, about how regulatory technology is transforming the finance industry
Regulatory technology (RegTech) is helping financial firms manage risk, avoid legislation breaches and creating a whole new skill set for the profession.

Since the last financial crisis, English explains there has been an upsurge in regulation that companies need to comply with, but limited resources to be able to track and deal with the changes.

"There is a lack of resources to actually recruit in the industry and the costs of those resources are getting higher and higher," says English. "It is a constant juggling act trying to comply."

Financial services firms are getting up to 220 alerts for new regulation a day, with some of these being several thousand pages long.

"You just can't keep up to date with that amount of regulatory change," says English. "It is not simply keeping up to date with it. Companies have to understand it, implement it and monitor it. They also have to make sure they are ready and prepared for it.

"We are seeing a rise in enforcement with regulators taking action against firms," says English. "Often it is for repeat breaches in the same firm, or for the same thing that happened to an industry peer. Compliance monitoring is clearly not effective, and firms are really looking for help to do it better."

To delve through this information mass, firms have been turning towards regtech to identify which pieces of regulation they need to focus on to manage the risks in the business.

English explains that if through technology companies can tag and categorise information including jurisdiction, business and subject areas then it can be automated and directed to the right people.

"RegTech outstrips human capacity to analyse large sets of data or complex sets of data," says English. "We can look at the data and say these are the controls; these are the things that keep going wrong; this is what the regulator keeps mentioning.

"It gives firms insight and tells compliance teams where to focus, where they might be most exposed and gives them a risk rating. Rulebooks are very static. They don't tell you which bits apply or where you are most exposed. If we can risk rate that and say this is a rule that is consistently breached, firms can use their resources in a much more effective way."

RegTech changing the way people work

The change in the way companies can keep track of regulation is also requiring the profession to have a whole new set of skills.

"Compliance officers have got to understand how it works and how they can get best use from it," says English. "There will be people who need to be able to explain what these systems are doing. There will be people who will need to train the systems to understand the data.

"They don't need to become developers and coders, but they do need to be comfortable using systems and understand areas like artificial intelligence, so they can advise the business."

If firms don't use RegTech, English points out, or do their own RegTech research and development they are actually going to be at a disadvantage.

Although it is changing the nature of the job of the compliance officer, RegTech is giving them far greater insight into how to monitor and spend time on the areas that are of most regulatory risk.

Our Fintech Forum 2020 was cancelled due to the COVID-19 virus. Catch up with our speaker interviews via the CSuite Podcast.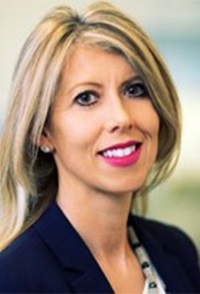 Stacey English, Chief Digital Officer at Corlytics