Authors: Maha Khan Phillips
Leon Kamhi is Head of Responsibility at the international business of Federated Hermes. He talks to Professional Investor about the importance of stewardship, about why fund managers need to step up on engagement and advocacy, and about what best practice could look like for the industry.
For Federated Hermes, active stewardship has been a key focus for over 30 years. The firm has called for the investment industry to be less short term-orientated, and argued that active stewardship is the best way to ensure that investors' capital is deployed to deliver sustainable wealth creation.
Within its own business, Leon Kamhi is responsible for ensuring that these issues do not fall by the wayside. Kamhi has led Federated Hermes' Responsibility Office since 2014, spearheading the firm's advocacy, stewardship, and ESG integration activities. He also oversees EOS, its global engagement and stewardship team.
Kamhi wants fund managers to put themselves in the shoes of their clients. "You have to think about what the investor is looking for. Are they looking for an income? If they are pensioners, are they looking for money to spend in retirement? Holistically, we have to think about what income we are delivering for them, but we also have to think about the social and environmental impact of the investments that we make. You might get a nice relative return on a climate intensive investment, for example, but that is more than outweighed by an increase in energy and food prices. For an average pensioner, that means they have to spend more money than before, so they are worse off," he points out.
Integrating stewardship
Kamhi believes that stewardship should be integrated into the investment process as much as other material factors are, placing it at the heart of all investment activity and the ways in which asset managers operate.
"Active stewardship needs to sit alongside buying and selling activity. Buying and selling is a negative sum game. It's stewardship that makes change happen. Putting the philosophy of stewardship at the forefront of how an investment firm works is quite a big change for the industry," he says.
To be effective stewards of capital, fund managers need to go beyond engagement with companies and Boards, to also engage with governments and with policy-makers, Kamhi believes. They must also come together to collaboratively influence change. "Often, bringing about change is a team effort," he says, pointing out that smaller asset managers may struggle to build the resources for effective stewardship.
Incorporating best practice
Kamhi highlights key elements of Federated Hermes' own approach to active stewardship. The first is engagement with companies - which can range in intensity depending on the issues being presented - while the second is the skill and expertise of the team. Investment managers need to expand their skill-sets and diversify expertise if they want to deliver effective stewardship, he suggests.

"We have built a real diversity of experience. From a nationality point of view, it's very hard for me to go to Asia and engage effectively, for example, so having a diverse team affords us a deeper understanding of the cultural context in different regions. We also have people who have worked as strategy consultants, people who have worked in the industry, worked on the legal side, and people who have worked in corporate governance and CSR as well. It's about understanding how all these different factors can be integrated into the business," he suggests.

A third key component is commitment. Kamhi joined Federated Hermes in 2002, originally within the firm's UK large cap activist fund, before taking on responsibility for its global corporate and public policy engagement programme between 2012-2016. As Head of Responsibility, he reports directly to the CEO, and says that there has been buy-in for his role from the Head of Investment as well. Stewardship will not work as effectively without the support of senior leadership at fund management houses, he suggests.

He also believes it is important to bring client voices into discussions, and to sit down with everyone at a firm to have discussions about engagement and responsibility. "It's a process of pulling, rather than pushing. Everyone has to make up their minds for themselves. People come to this in different ways, and each individual has to take it in their own way. The belief aspect is really important."
Evolution of stewardship
As Federated Hermes points out in its 2020 Stewardship Vision report, the concept of stewardship by asset managers has come a long way since it first emerged in the UK in the 1980s. In Europe, stewardship continues to develop – the amended EU Shareholder Rights Directive, a response to the Global Financial Crisis, will place an obligation on asset owners and managers to publish an engagement policy and report against it. However, much of the activity is still focused on executive remuneration at the expense of strategy, risk management, and material ESG issues.
There are also emerging areas where active stewardship is needed, areas that didn't exist 20 years ago. Investors need to engage with social media companies, for example. While social media has been a force of empowerment and democratisation, it has also been a driver of discrimination and hate speech, says Kamhi.
"Social media companies have made a huge impact in the way we behave as a society. Sometimes this can be very positive, because it brings people together. But there are negatives there because there is polarisation of society, and other factors – just look at the influence on elections, for example. But the polarisation is what worries me the most. Social media companies have a responsibility to address these issues," he says.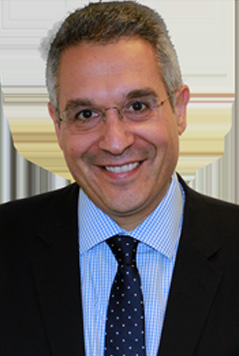 Leon Kamhi is Head of Responsibility at the international business of Federated Hermes