Author: Maha Khan Phillips
Every company in the future is going to be a technology company, says Tim Cruttenden, ASIP
In 1994, the web browser Netscape took the world by storm. At its peak, it had a market share of more than 90%, before it disappeared into relative obscurity, pushed out by Microsoft's Internet Explorer.
Netscape is an example of how the venture capital industry is constantly transforming, which is one of the reasons, says Tim Cruttenden, ASIP, that he is still fascinated by the business. "It re-invents itself all the time, maintaining interest for participants. It feels like you've had quite a few careers in one."
Cruttenden, formerly an economist at the Association of British Insurers, joined VenCap, the venture capital (VC) fund of funds business, in the same year that Netscape was launched, when VC itself was still in its infancy. "If you think about it, the development of that browser was really the way the internet was able to be commercialised - so it feels like I've been there for the whole internet ride" he says.
But the industry veteran believes that nobody could have predicted the way technology, and the internet particularly, would change the world. "What you are looking at now is phenomenal companies with massive revenues which you just couldn't foresee. Amazon started as an online book seller, and look where it is now. Google was just another search engine and look where it is now. It's that sort of thing. Social networks came along. Facebook wasn't the first, but it was the smartest."
And even the collapse of the dot com bubble was important. "A lot of money was lost on internet type companies, but actually what got built during that period was the backbone, a lot of the fibre, and that's enabled the internet to really develop" Cruttenden argues.
He also points out that the smart phone technology we are using today could not have existed without the strong mobile networks which were initially funded 15-20 years ago. "So I don't think you could really foresee where it was going. That's what the entrepreneurs were trying to do, and many got it wrong. So it's a challenge, but you can clearly see now that the Internet was a classic case of overestimating the short run effect and underestimating the long run effect."
The Evolution of VC
That challenge extends today, when technology is moving things along at a rapid pace, and new ideas, and new companies, are coming to the market. "If you think about what VCs do, they'll tend to invest in themes that they see for the future. The best VCs do that early, and that's where they are able to generate the returns. It can take a long time for a theme to become mainstream, and it is worth bearing that in mind," he says, pointing to cloud technology as an example of a technology that the market still views as relatively new but which the best VC investors had been allocating to for many years before it burst on to the public market.
In term of VenCap's own investment philosophy, Cruttenden says that there are always key attributes the firm searches for. "We know what we think makes a successful venture fund and we've got good access to a large number of those. We know there is persistence of performance within the venture community. A good fund has a very good chance of building a good fund next time around. That's from our data, but also from a large bank of independent data, a lot of it actually analysed by Oxford University."
The firm's approach has been to focus the majority of its capital on VCs which it believes will achieve consistent upper quartile performance, which tend to be well established, and which limit access to new investors. "We'll build relationships with them, and we'll often add value through our global approach and our proprietary data set. But we're not foolish enough to think that past performance is the only indicator of future returns – the best firms handle things such as team building and succession very well also."
The Evolution of an Industry
The VC market was a cottage industry when Cruttenden began his career, but now it has really scaled up, and become more global. "If you look at when I started, you were looking at a $4 billion a year VC market. Today, depending on whose numbers you take, you are looking at a $300 billion or so a year venture market," says Cruttenden.
VC has also encompassed a larger part of the private market, with more companies staying private for longer. Cruttenden points out that while a large initial public offering (IPO) might have had a market cap of $200 million in 1994, with a mega IPO at perhaps $500 million, banks now require much larger offerings before they get interested. "They need to earn their fees on those offerings, they want something that the public markets can get their teeth into," he says.
The result is that the VC market has now stepped in to the void. "The public markets, post 2008, really didn't want to take growth companies public. Such companies were generally loss making and needed financial support. They wanted to wait until the companies were further along in terms of development. And that left quite a funding void. The VCs spotted this and raised growth funds from 2008 onwards, to make sure they could support their best companies at that phase where previously the public market might have picked them up. That's actually been a huge success story in venture," he argues.
He says the industry's growing geographic diversification has also been fascinating to watch. "When I started, we invested in the US. That's where it was, it was Silicon Valley and Boston. If you look at what's happening in China, there are now more private unicorns than the US. Which is incredible in itself. Europe has also become a good place for venture returns – we are seeing many successful exits."
And Cruttenden points out, more money is getting invested in non-US VC companies now, than in US-based firms. He also believes Covid has accelerated many themes that were already in development, particularly around technology. "It's our belief that anything that can be connected, automated, or digitised will be. We are still quite early on in the technology transformation that we have been seeing. Every company is becoming a technology company and the best entrepreneurs are building business to enable this transformation".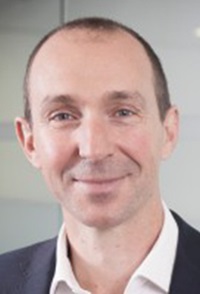 Tim Cruttenden, ASIP, Chief Executive Officer, VenCap