Author: Maha Khan Phillips
Noreen Biddle Shah launched Reboot., an initiative which aims to shine a spotlight on diversity by telling the stories of minorities working in financial services, earlier this year. She talks to Professional Investor about changing the narrative around race and ethnicity, and why there is more work to be done to promote ethnic minority representation across the UK.

PI: Why did you decide to set up Reboot.?
The Black Lives Matter movement significantly galvanised the interests of minorities and non-minorities around the world and highlighted the criticality of addressing racism and inequality in all its forms. We started to have conversations in ways we have not before.
For me, I decided to share my dad's story on workplace racism and the profound impact it had on him and our family. I was encouraged by the response and how genuine people were in wanting to do more and be part of change.
This led me to my network of senior communications friends, mostly in the financial services space, and brainstorm how we could use our skillset to keep positive momentum going on this topic, which is where we came up with the idea of reboot. – a platform to ensure momentum around race discussions in the workplace and UK society is maintained.
PI: What are its aims and ambitions?
Our aim is to humanise the dialogue around race and use the power of storytelling to encourage a positive conversation on representation issues in the workplace. We're also engaging with senior leaders across large organisations to help tackle conscious and unconscious biases.
Put simply, we want to help change the narrative around race and ethnicity, address biases that currently exist in the workplace and live in a world where racial inequality is a thing of the past. This is obviously a very idealistic goal, but this is our mindset and we want to play a role in making even a small dent.
PI: Tell us about how the network works, and some of the initiatives you are involved in.
As it stands, we plan to make reboot. a long running platform that celebrates the positive change we are hoping will become permanent. In doing so, we have put in a number of initiatives to continuously maintain momentum around the conversation.
One of the initiatives we've created is a series of interviews with ethnic minority individuals and senior professionals to shine a spotlight on individual experiences and influence both companies and individuals to take steps to eradicate racial inequality in the workplace.
We are also involved in a lot of research through some our research partnership organisations. The aim of which is to identify, address and educate people on some of the more prevalent issues. For example, we launched a survey on the UK populations' thoughts on systematic racism in the wake of the UK government's controversial race report – to highlight the opinions of the general public. It found that almost half of adults think systemic racism is common across the UK, despite claims to the contrary from the race report.
Furthermore, for up-and-coming ethnic minorities looking at entering the workplace, we're trying to position reboot. to be a place of inspiration, being seen and heard, and knowing that there is a well-trodden path of success before them by someone who has been in their shoes.
PI: How big is the challenge of ethnic minority representation in financial services?
The biggest challenge is data, we simply don't know how diverse the financial services industry is because very few companies voluntarily disclose diversity statistics, such as an ethnic pay gap. What we do know is there is more work to be done to promote ethnic minority representation across the UK and across professional services sectors specifically, but there are always intricacies to keep in mind.
We know pay gaps between ethnic minorities and their white counterparts are significant, but if you break it down, you begin to see a more nuanced picture. For example - largest non-white ethnic minority groups by country in the UK are all 'Asian': British Indian (2.5%), British Pakistanis (2.0%), British Bangladeshi (0.8%), and British Chinese (0.7%). As a comparison, black British represent 3.4% of the population (Black African 1.8%, Black Caribbean 1.1% and Black 'Other' 0.5%.) and 2.2% are 'mixed'.
A third of British Indians have professional jobs – well ahead of the 21% national average. But only 18% of Pakistani and Bangladeshi are similarly employed – and this is the lowest percentage of workers in 'professional' jobs by any ethnic group. British Indians have the highest average hourly pay of all ethnic groups (£13.46), closely followed by British Chinese. In contrast, Pakistani and Bangladeshi ethnic group members earn just £9.62 – comfortably the lowest. Hopefully this starts to highlight how complex the question of representation can be.
As it stands, we need more quality data – to track progress. We know the will is there to do more and there are complexities in collecting data, but this is a crucial element to the progression of representation of ethnic minorities and specific groups within that broad term.
PI: Why is it important to tell stories that come from ethnic minority backgrounds?
There is a vast amount of work to do to ensure everyone in a minority group is given a fair chance in the workplace. Part of this is to ensure ethnic minority individuals have role models they can look up to when facing issues in the workplace – "if I can see it, I can be it". Many ethnic minority individuals, particularly those from disadvantaged backgrounds, lack role models and mentors they can identify with and look up to in the workplace and this needs to change.
The deficit of role models could be one of the factors that helps explain why despite recent improvements across some ethnic minority representation, this has not translated across the board with specific ethnic groups.
At reboot. we believe it's important to tell their stories to inspire and educate - so that individuals and companies can understand the different challenges of these groups and highlight how senior leadership teams can create better policies and roadmaps to ensure there is level playing field for all.
PI: If asset managers and other financial institutions could make one key step to become more inclusive, what might that step be?
I think asset managers and other financial institutions are no different from companies across the board. The majority have begun to understand the benefits of a truly diverse company and culture because the research and evidence that highlights its strengths is overwhelming.
Many companies have come to understand that increased diversity and inclusion leads to innovation, and out of the box thinking. The most diverse companies are now more likely than ever to outperform less diverse peers on profitability, according to McKinsey.
A few practical steps companies can take and will support an ore inclusive culture are:
Education - acknowledge the lack of diversity in the first place. You cannot fix something you do not perceive to be broken.
Hiring and recruitment - adjust how you screen and search for candidates.
Establish mentorship programs to grow diversity.
Network and partnerships – there are many organisations that exist with the aim of supporting diversity and inclusion in workplaces, either through direct hiring or lessons on how to create a diverse create. In the PR space for example, the Taylor Bennet Foundation runs professional development programmes to support ethnic minority graduates to pursue a career in communications. Currently, the UK PR industry is 92% white, which is shocking. In financial services, you have Investment 20/20 and The Diversity Project designed to create more diversity in financial services roles. Where possible, companies should be making use and supporting these organisations to truly make a difference.
Sponsorship – to move away from tick box exercises, senior leaders need to be real sponsors and advocates to help build a strong pipeline minority talent across all levels. One CEO said to us he always noticed a greater misalignment with highly skilled ethnic minorities and their confidence, so he made it his job to make sure he played his role which resulted in promotions or expanded responsibilities.
PI: Some of the stats we see around representation and inclusivity in the financial services industry are truly shocking. Do you think this is changing? How optimistic are you.
We are cautiously optimistic. The transformational impact ESG is having on the industry is a key driver as are the Millennials and Gen Zs expecting so much more than just return on investments. It is also about social impact. Organisations know it is the right thing to do but it also makes business sense.
We have been pleasantly surprised by the reaction we have received by individuals and companies, particularly in the financial services sector and it's clear that most people are on board. What we need now is actionable steps to be taken towards greater ethnic diversity and inclusion – across ALL levels. reboot is optimistic about the future but there are no quick fixes.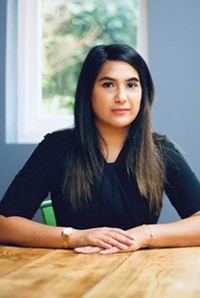 Noreen Biddle Shah, Founder of Reboot.
If you want to get in touch with Reboot, you can contact them here.