Renewing your membership with CFA UK gives you the opportunity to:
Visit CFA Institute's Renew Your Membership, and follow the steps to reactivate your membership. You must renew your CFA Institute membership to continue to use the CFA® designation.
Renew your membership now
8 reasons to renew your membership
Demonstrate your commitment to professional excellence: Gain recognition from your employer, peers and clients as an authoritative and actively engaged investment professional.
Grow your professional network: Network online or in-person with our community of over 12,000 of the most qualified investment practitioners in the UK.
Maintain your professional edge: Stay current with our 140+ events per year and unlimited access to our online CPD library, packed full of exclusive content.
Thought leadership: Hear from industry thought leaders, respected investment practitioners and esteemed academics.
Career support: Attend 10+ career events per year and find new job opportunities on our dedicated jobs board.
Contribute to the future of your profession: Get involved in the investment community as a volunteer – you'll improve your skills, increase your employability and raise your profile at the same time.
CFA Program exam support (CFA candidates only): Get comprehensive study support including online resources, revision surgeries, and mock exams.
What members say
"My involvement with the society has allowed me to expand my network and to continue learning from leading practitioners in the field – I have made many new contacts as a result of attending networking events and conferences." Daniel Abrahams, CFA
"CFA UK membership enables me to drive professionalism, integrity and innovative learning in my career." Lior Katz, CFA – CFA UK Ambassador for BlackRock
Membership highlights infographic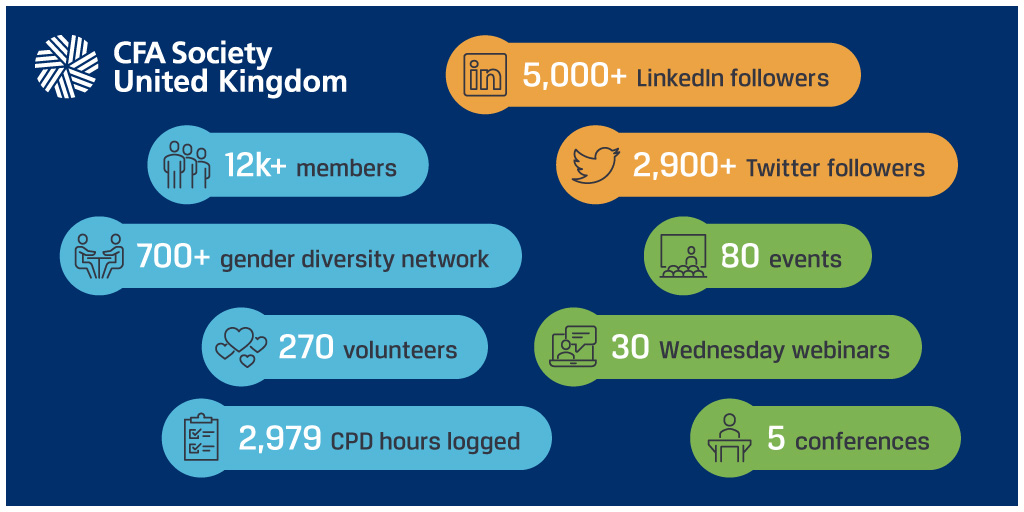 View photos from our 2017 Winter Reception