Ambassador Spotlight: Invesco Perpetual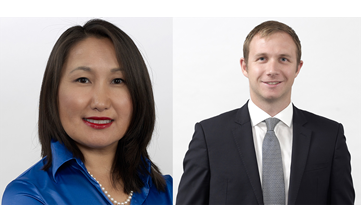 Ambassadors play a crucial role in promoting and encouraging employee engagement with CFA UK. They create a vibrant and supportive community of CFA UK members within their firms and ensure that those members get the most they possibly can from their society membership.
The Ambassador Council interviewed two Ambassadors from Invesco to find out how they do this.
Meet Alexandra Ivanova, CFA and Steven Hawes, CFA.
How long has there been an Ambassador at Invesco?
We have had a CFA UK Ambassador at Invesco since April of 2017, so a full two years.
What have been your biggest challenges?
The two biggest challenges of being an Ambassador at Invesco to date have been:
Actively involving more CFA charter holders vs CFA candidates. Charter holders can be more difficult to engage for a couple of reasons: (1) most tend to be in portfolio management or analyst roles and see less value in networking (although there are still many who are supportive of our efforts), and (2) charter holders consume less CFA UK content because they are already inundated with a lot of information on the investment floor that candidates don't have access to.
Our location being outside of London city, makes it difficult to take advantage of all the events that CFA UK organises in the city during the evenings. However, we still make sure to advertise them all!
How have you overcome these challenges?
To try and engage charter holders as well as candidates, we organise CFA networking events and invite all CFA UK members, candidates and charter holders. However, we will make a concerted effort to engage charter holders as much as possible. For example, the last event we organised was to celebrate successful candidates, and we specifically asked charter holders to attend in support of those candidates. When webinars and events directly relate to a certain area of investment, we also promote those internally using a targeted approach.
Regarding being far from London- it has its own benefits. Invesco is located away from busy city buzz and feeds into a more relaxed and collaborative culture within a quieter environment. Though this naturally impacts on the number of Invesco employees attending CFA UK evening events, it doesn't stop us from hosting successful internal events.
The most successful internal events we organise are the Wednesday lunchtime webinars, where we televise CFA UK's 'Wednesday Webinar at One'. We normally book a room, organise tea/coffee and biscuits for attendees, and send Outlook invites to all members ahead of the webinar and encourage them to bring their lunch into the meeting room. Invesco's Internal IT support team is also on stand-by in case we have technical issues. We found that these lunchtime webinars offer CFA UK members an opportunity to network and a chance to ask us (Ambassadors) questions.
What have been your biggest successes?
We think that our success is the result of a collection of little achievement over the past two years, rather than one big achievement. These include (but are not limited to):
Organising a networking lunch
Meeting with CFA UK CEO Will Goodhart
Organising mock exams for CFA candidates at Invesco Henley offices
Organising a celebration event for those colleagues who passed CFA Level III
Bi-weekly Wednesday seminars with teas/coffees.
Normally we get positive feedback from candidates on these events and feel encouraged to continue in the future.

You have two Ambassadors at Invesco. What are the benefits? Would you recommend it to other firms?

We decided to have two Ambassadors at Invesco because we believe that two heads are better than one. We are both quite busy in our day jobs; having someone else to take over when one of us is unable to commit fully provides great continuity and makes sure we progress without breaks. We are also able to tap into and capitalise on the resources available to another Invesco employee who is responsible for continued education and has better links with HR, external resources, senior management, and additional resources for development. We are in constant communication with each other and we have regular catch-up meetings (bi-weekly) to plan, brainstorm, and assess our progress. We think that having two ambassadors takes the pressure off one person and we rely on each other for support and help.

If you are a CFA UK Ambassador and would like to organise internal events for your in-firm networks, contact your Ambassador Council representative for some guidance and support.

Or, if you are a CFA UK member interested in becoming an Ambassador, contact the society's Volunteer Development Team for more information.