With over 5,000 exams sat each year, the Investment Management Certificate (IMC) is the most widely recognised and established qualification of its kind in the UK. The IMC has been used by investment professionals for over 15 years, and is taken by staff in leading investment firms in the UK and overseas. The IMC is the industry's benchmark entry-level qualification and is approved by the Financial Conduct Authority (FCA).
IMC candidates come from a broad range of backgrounds with equally broad aspirations. It is generally considered appropriate for anyone entering an investment-related role.
Typical roles will include:
Investment management
Investment support
Sales and marketing
Investment administration
The IMC provides the ideal foundation for those with future plans for the CFA Program. IMC candidates cover 30% of the CFA Level I curriculum. From induction to masters-level, the IMC-CFA route provides a globally-recognised career progression for investment professionals.
CFA UK aims to improve the immediate employability of graduates entering the investment profession by providing them with a clear headstart – the IMC Advantage.
IMC Advantage awards the country's top universities and business schools with recognised partner status; highlighting the significant alignment of the Investment Management Certificate (IMC) syllabus to specific finance undergraduate courses.
The IMC qualification, awarded by CFA UK, is a requirement in most leading investment firms in the UK to demonstrate competence for regulatory purposes, and for those who choose to take the IMC before or straight after graduation, it provides a powerful CV enhancement.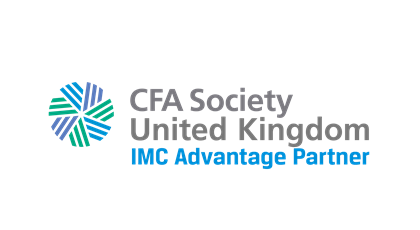 University courses that are part of the IMC Advantage programme cover, 70% of the IMC syllabus making students nearly exam ready upon completion of their degree.
Download the full IMC brochure for an understanding of the exam's level and content.
Find out more
If you would like to find our more about the IMC Advantage programme or join as a partner, please contact:
Priya Ramsden, Relationship Manager
+44 (0)20 7648 6220