Register for the Certificate in ESG Investing
Level 4 ESG Exam fees
| | |
| --- | --- |
| ESG Investing - Exam registration and online learning materials | £470.00 |
| ESG Investing - Hard copy of the learning materials | £30 + p&p |
ESG syllabus version 2 is coming shortly.

Please note: version 1 is for all exams up to and including 30th August 2020. All exams from 1st September 2020 onwards will be on version 2.

Important Information
It is recommended that candidates start studying first and then schedule their exam 1 month before wishing to sit the exam.

Exams take place daily Monday to Friday and can change on an hourly basis.

Candidates can only view exam availability after registering for the exam.

Click

here

to search for your nearest test centre.

The Certificate in ESG Investing is currently available in the UK and at number of international test centres. For further information please visit our International Partnerships page.

Once candidates register and pay for the exam, they are required to wait 2 working days before they are permitted to schedule the exam.

From the date candidates pay for an exam registration, the registration is valid for 12 months. If you do not take the exam within this period your registration fee will be forfeited.

You will need to present ID at the test centre on the day of your exam. The only acceptable forms of ID are:
o a valid signed national passport
o a valid signed UK photo driving licence
o a valid signed UK photo provisional driving licence

Non-UK driving licences are not accepted as a form of identification. Photocopies of the above are not acceptable.

Candidates wishing to reschedule or cancel an arranged exam appointment are required to provide more than 72 hours prior notice to reschedule an examination, prior to the appointment time.

If candidates fail the exam or are absent from an arranged exam appointment they are required to re-register and pay the full exam fee again before they are permitted to schedule another exam sitting.
What happens on the day?
Arrival
It is important to arrive at your test centre at least 15 minutes before the scheduled start of your test. If you arrive after this time, you will not be admitted and you will have to re-register and pay the full exam fee again before they are permitted to schedule another exam sitting.
Test centre reception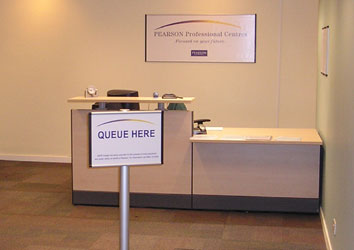 When you enter the test centre you must proceed to the reception desk, where you will be asked to present your ID.
The test centre staff will give you further instructions: whether to wait in the seating area or head straight to one of the numbered computer terminals in the testing room.
Test centre locker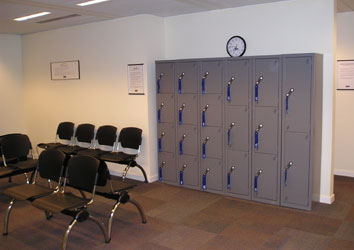 You will be asked to leave any personal items in the lockers beside the seating area.
You are not permitted to take anything into the testing room. This means no watches, wallets, bags, pens, papers, books, stationery, food, water, mobile phones and other electrical devices such as tablets and calculators.
Testing room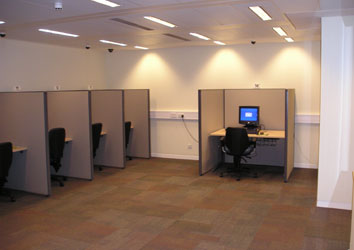 At your appointment time you will be asked to enter the testing room, where you will have a numbered desk with a computer terminal.
Pearsons Vue provide examinations for many awarding bodies so it is likely that candidates sitting alternative exams will be in the testing room with you.


Invigilation desk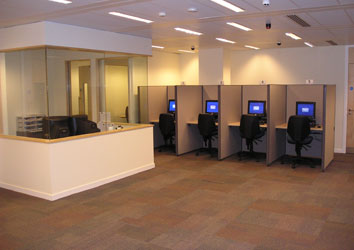 There is an invigilation desk in the testing room, from which the invigilator has a clear line of sight to every desk and computer. Your computer will only display the exam for which you are registered.
Test centre reception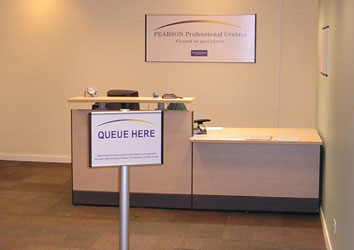 Once you have completed your examination, follow the instructions on screen and leave the testing room.
Proceed to the reception desk where the Test Centre Administrator will hand you a print out of your provisional examination results.
Reasonable Adjustments
Candidates with either:
physical disability, permanent/temporary, (e.g. visual or hearing impairment) or

long standing learning difficulties (e.g. dyslexia)

can apply for a reasonable adjustment for the exam. Please review our policy for full details.
Candidates should first register and pay for the exam online.
Candidates must email info@cfauk.org the completed Reasonable Adjustments form with supporting documentation prior to scheduling the exam.