Member benefits
IMC membership equips you with practical benefits to help you grow your career, achieve your professional goals, and get and stay ahead in the investment profession.
Membership fees
Our membership year is 1 July to 30 June and the annual membership fee for the 2020/2021 membership year is £120.00.
For all renewals, the full annual fee applies.
New members can take advantage of prorated membership see the table below for prices: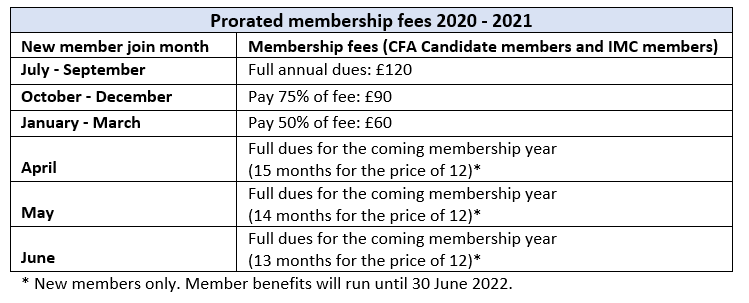 Do you have questions about becoming an IMC member with CFA UK? Contact the membership team.
Gain professional recognition
CFA UK membership demonstrates your commitment to professional excellence, giving you recognition as an authoritative and actively engaged investment professional.
Progress your career
Take advantage of our career support services including 20 free career-related events per year and access to our Careers Centre where investment firms actively target CFA UK members. You can also use the IMC designation after your name to showcase your qualification.
Connect with like-minded peers
Grow your professional network by connecting with over 12,000 of the most qualified investment practitioners in the UK:
Expand your knowledge
Stay ahead by developing your knowledge and keeping up-to-date with the latest industry insights:
attend educational events and conferences, with over 50 events per year free to members
get unlimited access to CFA UK Discover - our professional learning platform - where you will find filmed events, webcasts, podcasts, articles and presentations
enjoy access to thought-provoking articles and interviews from leading investment experts through Professional Investor content hub and historical magazine archive.
Eligibility
IMC membership is available to individuals who have passed the Investment Management Certificate (IMC). To be eligible, you must meet one of the following criteria:
have passed both units of the IMC examination, or
have passed one of the two units that make up the IMC examination and been awarded formal exemption against the other unit.
You will need your IMC candidate number (e.g. SIP11110000) and a method of payment by hand when you apply.
Protect: Speak up, stop harm helpline
CFA UK is a sponsor of the whistleblowing charity Protect (formerly Public Concern at Work) which provides a dedicated telephone number to our members.
Call 020 3117 2520 or 0800 112 4984 to report any concerns or if you need personal support. You can also email whistle@protect-advice.org.uk
For more information see our whistleblowing resources.