The 2020 Society Awards Programme, hosted by CFA Institute, recognizes the outstanding achievement, support, and dedication of the CFA Society® community across the globe. CFA Society United Kingdom (CFA UK) has been announced as the winner of the Impact and Innovation Award for its high-impact and highly innovative initiative.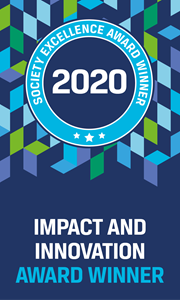 CFA UK was recognized for launching the Certificate in ESG Investing, which provides formal ESG education and professional learning to ensure that investment professionals continue to meet their clients' needs and fulfill their fiduciary duties. This initiative had high impact for the society with the potential for widespread roll-out among the global CFA Society Network.
Will Goodhart, Chief Executive, CFA UK said, "We are honoured to have won this prestigious award, as our society is dedicated to promoting the highest standards of ethics, education, and professional excellence in the investment industry. With the global COVID-19 pandemic, we have found new ways to deliver support and high-quality, relevant content to our members. We are inspired by the award and will continue to help build a better investment profession.
Randi Tolber, CFA, Head of Global Society Relations, CFA Institute added, "We send our congratulations and deep appreciation to all award winners and finalists. The CFA Society community plays an integral role in helping us to fulfill our shared mission, and we are delighted to recognize its achievements through the 2020 Society Awards Programme. Each year we are inspired by the breadth of impactful initiatives undertaken by societies and their volunteers. This year's judges were equally impressed with the high quality of submissions and how well societies consistently display their ability to adapt and innovate.
---------------------------------------------------------------
About the Society Awards Programme
The Society Awards Programme consists of a two-phased application process. Phase 1 is a short form application, and then finalists are selected to proceed to a more rigorous Phase 2 application process.
All finalist applications were evaluated by a panel of judges consisting of CFA Institute staff, current President Council Representatives, and past Volunteer of the Year award winners.
About CFA Institute
CFA Institute is the global association of investment professionals that sets the standard for professional excellence and credentials. The organization is a champion of ethical behavior in investment markets and a respected source of knowledge in the global financial community. Our aim is to create an environment where investors' interests come first, markets function at their best, and economies grow. There are more than 170,000 CFA® charterholders worldwide in 162 markets. CFA Institute has nine offices worldwide. CFA Institute and our CFA Society network, enabled by strong infrastructure, solid governance, and a shared digital platform, work as one to raise professional standards in over 150 global financial markets.
For more information, visit www.cfainstitute.org
About CFA UK
Part of the worldwide network of member societies of CFA Institute, CFA UK represents the interests of 12,000 investment professionals in the UK.
Media contact:
For press inquiries, please contact Ogilvy Public Relations:CFASocietyUK@ogilvy.com