Author: Daniel Yates, CFA
Julia Hoggett, CEO of the London Stock Exchange talks to Daniel Yates about Pride, diversity on boards, and her advice for the next generation.
Catch the full discussion on the latest episode of our In Conversation podcast series.
"Every day should be a moment of openness and celebration!" says Julia Hoggett, the first openly gay chief executive officer of the London Stock Exchange in its 300-year history. Julia's career has seen her work for J.P. Morgan, Bank of America, and the FCA; during which time she has been named in Financial News' 100 most influential women four times and appeared in OUTstanding's list of top LGBTQ+ Executives twice.
Julia took over the helm at the LSE in 2021 and sees her role as CEO as helping to "Drive and grow the capital markets in the UK".
On the topic of Pride, Julia acknowledges, "The reality is we still need Pride month" highlighting that while, "It may be straightforward for me to walk into the LSE and talk about my partner, it's not straight forward for young gay kids at school being bullied, or people from countries all over the world where it is still illegal to be gay".
Julia believes the responsibility of people with privilege is to make it easier for the next generation, and she's spent much of her career as a vocal advocate for the LGBTQ+ community. She is credited with working with colleagues to launch the first ever recruitment event in the City for LGBTQ+ students.
Now as CEO the "tone from the top matters" to help set the culture at the LSE, which she believes is "about giving everybody an equal opportunity to thrive". "D&I shouldn't be about rainbow lanyards and recruitment posters, it should be about frank conversations about what we haven't fixed yet and what we're going to change".
Julia describes her first manager as a role model, having influenced the outcome of her career by helping Julia to come out in her professional life. "It was one minute of her time and it changed my life. I don't feel I would be sitting here if she hadn't done that. I feel like I have to pay that back and forward everyday".
Another role model Julia points to is her mother, Lady Hale, the first female president of the Supreme Court who notably overturned the Prorogation of Parliament in 2019. She describes her mother as "fearless in taking on the world" and that her father made it clear that he had not had to give up his career when he became a father and he equally did not think her mother should either.
On diversity on boards Julia believes "diversity of thought is critical to making good decisions". She describes the paradox that there is "no evidence that men dominating the upper echelons of the corporate world leads to better outcomes", explaining that it is not a feminist or D&I comment, but a comment on research methods, "objectively we have never had a control group to prove it and yet for some bizarre reason we demand far more evidence to change the status quo than we do to justify the status quo". With female representation on Britain's top 100 companies now standing at 39.1% Julia says "we've only really started moving the dial on gender we haven't gone anything like as far as we should have on ethnicity".
"Be yourself!" is her advice for the next generation of leaders. "Be authentic. Be the person you are and do not try to be something that you're not. The more I've realised that's who I can be as a leader, the more relaxed as a leader I have become, and the more successful as a leader I have become".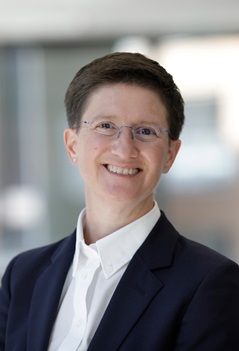 Daniel Yates, CFA, Executive Director at J.P. Morgan.